Maritime Museum Rotterdam
Maritime Museum Rotterdam
1880 Views
A city with one of the biggest ports in the world, can't have a small maritime museum. That's why the Maritime Museum Rotterdam has over one million maritime object and all sorts of (inter)active experiences for you to explore.

Professor Splash and more

The Maritime Museum has hundreds of maritime objects on display, shows a movie about the history of the port of Rotterdam and gives you the possibility to visit a naval ship from 1868. Children enjoy an educational program with Professor Splash.

Family Day Out

The Maritime Museum is particularly suited for a fun family day out. Situated in the heart of Rotterdam, the museum is easy to reach and ideal to combine with an afternoon of sightseeing or shopping.
For more information about Rotterdam you can go back to the Rotterdam or the Rotterdam museums page.

What's nearby
Show on map
Address:
Leuvehaven 1
3011EA Rotterdam
Search for your holiday home
Check out our extensive offers.
2000 holiday homes throughout Holland.
On the coast, in a natural environment or near cities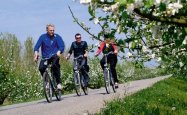 If you want to explore Holland by bicycle, check out our offer of organised bicycle holidays. The bicycle routes include baggage transport!
View the offer