Nederlands Fotomuseum
1071 Views
With a rich gradated exhibition program of historical and contemporary Dutch and international photography treasures, the Netherlands Museum of Photography is the place to be for photography aficionados.
Presenting a century of Dutch history in images
Historical and contemporary, national and international
More than 130 archives of photographers
The Netherlands Museum of Photography
Dedicated to photography in the widest sense of the word, visitors can view the special exhibitions, take a look around in the collection, listen to the stories behind the photographs, and relax in the film lounge. The Netherlands Museum of Photography presents one of the most interesting mixes of exhibitions, publications, lectures and workshops for young and old.
Grand collection
The museum owns about 130 archives of Dutch photographers, which are preserved in the museum. The collection embraces the history of Dutch photography and presents more than a century of Dutch history in images. Over three million negatives and a large quantity of slides and prints document the life and work of Dutch photographers. Furthermore, the collection contains photo albums, glass negatives, autochromes and stereographs.
Images from the 21st century
As it is the 21st century, the Netherlands Museum of Photography also focuses on collecting and preserving digital images. The museum has selected the most beautiful, most exciting photographs as the highlights and turned them into a special collection.
What's nearby
Show on map
Search for your holiday home
Check out our extensive offers.
2000 holiday homes throughout Holland.
On the coast, in a natural environment or near cities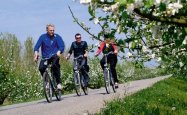 If you want to explore Holland by bicycle, check out our offer of organised bicycle holidays. The bicycle routes include baggage transport!
View the offer