Oosterschelde storm surge barrier
Oosterschelde storm surge barrier
1399 Views
Measuring nearly eight kilometres in length, the Oosterscheldekering barrier is a special dam that connects the Zeeland islands of Schouwen-Duiveland and Noord-Beveland. This part of the Delta Works was built to protect the Zeeland region from the sea after the North Sea Flood in 1953.
Protecting the environment
The Oosterscheldekering storm surge barrier is a unique and internationally acclaimed flood protection project. The original plans called for a closed dam. This led to a lot of objections because the water behind the dam would have lost its salinity and salt water fish and plants would have disappeared.
Moveable barrier
That is why a barrier was designed that could be closed in emergencies. The moveable part is nearly three kilometres long divided over three sluice gate-type openings. Colossal piles support doors that move up and down to open and close the barrier. All in all it is a beautiful example of Dutch hydraulic engineering that is definitely worth a visit.

What's nearby
Show on map
Search for your holiday home
Check out our extensive offers.
2000 holiday homes throughout Holland.
On the coast, in a natural environment or near cities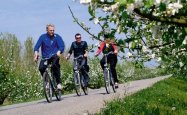 If you want to explore Holland by bicycle, check out our offer of organised bicycle holidays. The bicycle routes include baggage transport!
View the offer