Rotterdam City Hall
1532 Views
Rotterdam's City Hall is one of the few old buildings left in the centre of the city. It was built between 1914 and 1920 and miraculously survived the 1940 bombing raids. Rotterdam's City Hall is located on the Coolsingel. It is a beautiful building that definitely deserves your attention.
City Hall's special features
Rotterdam's City Hall used sculptures to express the history of world port Rotterdam from the outset. When walking around the building, you will discover several special sculptures.
On either side of the building's main entrance, for instance, you will find images of the 'Portier' (doorman) and the 'Fiscus' (tax collector). Some ten other images express a range of values and virtues. 'Stedenmaagd' (urban virgin) sits over the main entrance, with the gilded bronze statue 'Genius met fakkel' (spirit with torch). The highest tower bears the gilded statue 'Vredesengel' (angel of peace).
Around city hall
You cannot visit City Hall on your own, but you can ask the local tourist office about guided tours of City Hall. Shopping streets the Lijnbaan and Koopgoot are just a stone's throw away from the prestigious national monument. The Meent will take you to a range of cafés and restaurants. The Stadhuisplein square facing City Hall is a bustling nightlife location after the sun goes down.
What's nearby
Show on map
Search for your holiday home
Check out our extensive offers.
2000 holiday homes throughout Holland.
On the coast, in a natural environment or near cities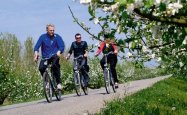 If you want to explore Holland by bicycle, check out our offer of organised bicycle holidays. The bicycle routes include baggage transport!
View the offer