Sneek is the water sport capital of Friesland. The final of the skûtsjesilen championships takes place here and it's home to the largest inland water event in Europe: Sneekweek. Every water sport enthusiast planning on visiting Friesland should definitely visit Sneek.
Highlights of Sneek
This city with approximately 33.000 inhabitants is primarily known for water sports. Next to this, Sneek attracts many day trip visitors. The town has several beautiful canals and just like everyone else that visits, you will want to have your picture taken at the Watergate. This 17th century gate was part of a larger defensive system and has become the emblem of Sneek.
Visit Sneek
If you're planning on staying in Friesland, you should definitely visit Sneek. This vibrant town offers great water sport facilities. During the summer it hosts many great events that attract both water sport enthusiasts and landlubbers.
What's nearby
Show on map
Search for your holiday home
Check out our extensive offers.
2000 holiday homes throughout Holland.
On the coast, in a natural environment or near cities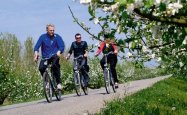 If you want to explore Holland by bicycle, check out our offer of organised bicycle holidays. The bicycle routes include baggage transport!
View the offer