The Alde Feanen
271 Views
Between Leeuwarden, Heerenveen and Drachten lies a beautiful fenland, a breeding sanctuary for over one hundred species of birds and over four hundred plant species. This type of marsh is considered one of the richest natural areas in North-West Europe. Explore the area that includes swamps, open water, reed beds, grassland and brushwood full of herbs, insects, plants and birds. The area is open to all ages and the environment is well attuned to the thousands of tourists who arrive each year to enjoy a vacation in nature.
Bird hides and water recreation
Every year, National Park De Alde Feanen attracts thousands of people who enjoy scenery and water recreation. The permanent residents of the area are the birds. Venture out into the National Park and you will come across several bird hides. Take some time to study the behavior of the hundreds of birds at the Alde Feanen without being noticed.
One of the best ways to explore The Alde Feanen is by taking to the water. You can take the ferry to the village Earnewâld, where you can rent canoes, rowboats, sail boats and power boats. If you do not want to steer a boat yourself, there are several cruise companies to choose from. The park also has a visitor center with information about all routes, expeditions and activities. They will also tell you how to reach the stork station in Eibertshiem.
Skating and sailing on the Alde Feanen
National Park De Alde Feanen is a beautiful area to relax throughout the year. In summer, thousands sail the lakes and during icy winters the area is a popular venue for ice skating. Both seasons in the Alde Feanen offer special experiences that create a lifetime of memories.
When visiting the Alde Feanen, have a look in the Skûtsje Museum in Earnewâld. The historic shipyard De Stripe can teach you everything from craftsmanship to the history behind these beautiful ships, which are typical for Friesland.
What's nearby
Show on map
Address:
Koaidyk 8
9264TP Earnewald
Search for your holiday home
Check out our extensive offers.
2000 holiday homes throughout Holland.
On the coast, in a natural environment or near cities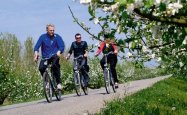 If you want to explore Holland by bicycle, check out our offer of organised bicycle holidays. The bicycle routes include baggage transport!
View the offer