The Kröller-Müller Museum
The Kröller-Müller Museum
8729 Views
The Kröller-Müller museum in Gelderland boasts not only a world-famous collection of 19th and 20th century art, but also an immense collection of pieces by Vincent van Gogh. If you're an art lover and you're in Gelderland, you cannot afford to miss this chance.
Discover the Kröller-Müller museum's splendid sculpture park.
Take a walk through the 25-acre sculpture park.
Discover the unique Van Gogh collection.
Home museum
Helene Kröller-Müller had a dream to create her own 'museum-home'. With her wealthy husband's money and help from an advisor, she purchased over 11,500 art objects. The Kröller-Müller Museum opened its doors in 1938 in the Hoge Veluwe National Park.
Van Gogh and the Sculpture Garden
There's plenty to see at the Kröller-Müller Museum, but these are the two particularly interesting highlights:
the Van Gogh collection: the largest privately owned collection of Van Goghs in the world (not counting the collection of the Van Gogh family itself).
the sculpture garden: has grown into one of the largest of Europe. Surrounded by the De Hoge Veluwe National Park, it's wonderful to see how the sculptures, garden and park merge together.
Art in the Park
Combine nature and culture by visiting the Kröller-Müller Museum in Hoge Veluwe National Park. If you take one of the free-to-use white bikes, you can enjoy the surroundings in the morning and visit the Kröller-Müller Museum in the afternoon.
'Van Gogh 125 years of inspiration'
In 2015 it will be exactly 125 years ago since Vincent van Gogh's death. The Van Gogh Museum in Amsterdam, Kröller-Müller Museum in Otterlo and Noordbrabants Museum in Den Bosch, which show parts of Van Gogh's oeuvre, will honour the painter with special exhibitions revolving around the theme 'Van Gogh 125 years of inspiration'. In addition countless anniversary activities relating to Vincent van Gogh's cultural heritage will be organised in Holland in 2015. Keep an eye on the site for more information.
Spend the night near Kröller-Müller Museum
This lovely boutique hotel is just 2.5 km away from the Kröller-Müller Museum and within walking distance of the entrance to Hoge Veluwe national park.

Guest review: 8,8
Otterlo, Gelderland

Check availability
What's nearby
Show on map
Address:
Houtkampweg 6
6731AW Otterlo
Search for your holiday home
Check out our extensive offers.
2000 holiday homes throughout Holland.
On the coast, in a natural environment or near cities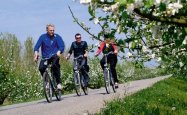 If you want to explore Holland by bicycle, check out our offer of organised bicycle holidays. The bicycle routes include baggage transport!
View the offer