The New Dutch Water Line
2349 Views
The New Dutch Water Line is a defense line with a circumference of 135 kilometer around which the cities of Amsterdam and Utrecht are situated. The massive fortification is formed by at least 45 fortresses. The strength of the defense is in its ability to inundate large tracts of land. Today, the New Dutch Water Line no longer serves a military purpose and enjoys a protected status as a National Heritage Site and a National Landscape.
Cycling along the Water Line
Follow the New Dutch Water Line by bicycle or on foot and you will pass beautiful scenery and numerous cultural monuments. Along the route, you can vary the nature, first with its meadows, fields, heath, peat bog soil, lakes and rivers,  and then with fortresses, picturesque villages and the cities of Amsterdam and Utrecht. You can decide which challenge you want to take on- there are hiking and cycling routes of several kilometers, but also routes that reach up to 40 kilometers.
Besides hiking and biking, there are other ways to discover the landscape of the New Dutch Water Line. For example, there are several skating and horse riding routes as well as opportunities to hire a canoe or a boat.
Cultural and historical extras
A trip along the New Dutch Water Line will not only lead you right through beautiful Dutch landscapes, but also to museums, fortresses and castles. Examples are the castles Muiderslot and Slot Loevestein, the Netherlands Fortress Museum and the botanical gardens of Fort Hoofddijk. This special blend of nature and cultural activities makes the New Dutch Water Line popular with people of all ages.
What's nearby
Show on map
Search for your holiday home
Check out our extensive offers.
2000 holiday homes throughout Holland.
On the coast, in a natural environment or near cities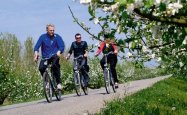 If you want to explore Holland by bicycle, check out our offer of organised bicycle holidays. The bicycle routes include baggage transport!
View the offer