In addition to the many archaeological finds made around Nijmegen, the Valkhof Museum has much to offer in the way of modern art, and regularly features special exhibitions. Definitely worth a visit!
Learn about Nijmegen's Roman history in the Valkhof Museum.
Enjoy great pieces of modern art and regular special exhibitions.
The site on which the Valkhof Museum is built used to be a Roman military camp. At the time Noviomagus, as Nijmegen was called, was the most important Roman city in Holland. It should come as no surprise that the museum possesses a large collection of archaeological Roman objects.
From Roman art to Pop Art
The collection consists of Roman artefacts organised in themes such as religion, trade and crafts, as well as everyday life. The museum also owns a broad collection of modern art and regularly organises special exhibitions ranging from Pop Art to contemporary Expressionism and unique prints.
Notable architecture
The museum was opened by Queen Beatrix in 1999 and is housed in a modern building with clean rigid lines and bright colours. It has been nicknamed the 'block box' and 'the aquarium' and its architecture, which stands out in the green surroundings, is not loved by everyone. Still, the museum is well worth your while. You will find it at Kelfkensbos 59.
What's nearby
Show on map
Search for your holiday home
Check out our extensive offers.
2000 holiday homes throughout Holland.
On the coast, in a natural environment or near cities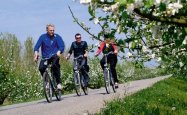 If you want to explore Holland by bicycle, check out our offer of organised bicycle holidays. The bicycle routes include baggage transport!
View the offer