Wilhelminakade
1000 Views
The Wilhelminakade along the river Meuse is the famous pier of Rotterdam. Between 1901 and 1971 ships would sail from Rotterdam to New York and back. The Holland America Line was the gateway to America for many (Eastern) Europeans, especially during World War I.
Rotterdam and New York
There is a strong connection between Rotterdam and New York. Ships have sailed between the two cities since 1873. Nowadays, the architecture of Rotterdam has an American character too.
Skyscrapers fill the air along the Wilhelminakade. The architect's motto seems to be the higher, the better. The average height of the buildings is around 150 meters and most of them have been constructed using the latest sustainable techniques and daring design. Due to these architectonical developments, Rotterdam is also known as 'Manhattan on the Meuse'.
Enjoy the Skyline
The only  original structure on the Wilhelminakade in Rotterdam (which was there before the 1940 bombings) that still remains is Hotel New York. What used to be the headquarters of the Holland America Line is now a hotel and restaurant where you can have a drink and a bite to eat while enjoying the skyline of Rotterdam.
Click here for more information about culture in Rotterdam or Rotterdam itself.

What's nearby
Show on map
Search for your holiday home
Check out our extensive offers.
2000 holiday homes throughout Holland.
On the coast, in a natural environment or near cities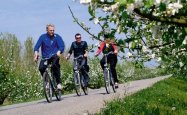 If you want to explore Holland by bicycle, check out our offer of organised bicycle holidays. The bicycle routes include baggage transport!
View the offer