Zeeuws-Vlaanderen
391 Views
The southwest of Zeeland is a beautiful area that is famous for its beautiful beaches that attract thousands of people every summer. But there is more than sun, sea and sand. Southwest Zeeland can be divided into three National Landscapes: Walcheren, Zeeuws-Vlaanderen and Zuid-Beveland. Each of these national landscapes represent a unique part of Zealand where you can enjoy nature, culture and the local cuisine.
Zeeuws-Vlaanderen is an area that attracts thousands of tourists and day-trippers from both the Netherlands and Belgium. The area enjoys a good reputation thanks to its beautiful beaches, culinary delights and shops that are open on Sundays. But the area is also known for its unique nature. It is not without reason that the landscape of Zeeuws-Vlaanderen has been declared a National Landscape.
The nature of Zeeuws-Vlaanderen
Zeeland has a special landscape of creeks, pastures and dikes. On the latter, long rows of pollarded trees are often present, both willows as well as poplars. The dikes have a such a special vegetation that they are also called flower dikes.
The Drowned Land of Saeftinghe is the largest contiguous wetland in Western Europe and is located in the east of Zeeuws-Vlaanderen. Saeftinghe is a tidal marsh area in which the salt seawater and the fresh river water shape the delta landscape. The nature reserve can only be visited in the company of a guide. Excursions (that are also open to children) can be reserved at the visitor center of Saeftinghe.
Other areas that are well-known for their nature are Zwin, a landscape of dikes and channels, and the Margarethapolder, an area in which pasture, wetland and coastal birds live in an open pasture landscape with creeks. In short, even if only for the nature of Zeeuws-Vlaanderen, you should definitely plan to visit.
Sunday shopping and exuberant life
The municipalities of Zeeuws-Vlaanderen are divided into Sluis, Terneuzen and Hulst. If you want to enjoy your vacation by the beach, then you should go to the municipality of Sluis. Cadzand, which belongs to this municipality, is one of the most beautiful places by the beach in the Netherlands. Sluis is an ancient fortified town where shops are open on Sundays and one of the best restaurants of the Netherlands can be found: Restaurant Oud Sluis.
Are you a fan of mussels? Then come and visit the mussel village of Philippine in the municipality of Terneuzen. Hulst is known as the 'most Flemish town' of Holland and has a good reputation when it comes to the enjoyment of life. Enjoyment gets a new meaning in Hulst.
What's nearby
Show on map
Search for your holiday home
Check out our extensive offers.
2000 holiday homes throughout Holland.
On the coast, in a natural environment or near cities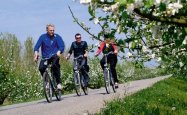 If you want to explore Holland by bicycle, check out our offer of organised bicycle holidays. The bicycle routes include baggage transport!
View the offer