Wietske Mak-van Langelaan
Wietske Mak-van Langelaan
573 Views
| | |
| --- | --- |
| Name: | Wietske Mak-van Langelaan |
| City: | The Hague |
| My tip: | Getting some fresh air in Scheveningen |
'The Hague represents royal enjoyment!'
The Hague is a city with style. This is visible throughout the city, in the historic centre with its elegant squares, parks and monuments in particular. We have the stately Voorhout, the extraordinary Hotel des Indes and Noordeinde royal palace. The city centre also boasts the best museums as well as an endless length of shopping streets! The surrounding smaller streets, such as Hofkwartier and Buurschap 2005, offer countless specialty shops, boutiques, art galleries, cafés and the best restaurants.
Outdoors in the city
There are lots of fun things to do for families as well. I like to take my children to the palace gardens just behind my home. This is a wonderful place for a picnic on the sprawling lawn and it also has a playground. There is a hidden door to the garden in addition to the official entrance. It can be found near the junction Molenstraat-Oude Molstraat. You just have to ring the bell! The Westbroekpark is another great place. The Waterkant hires out rowboats so you can take a tour around the park. This small (outdoor) restaurant lies hidden between the trees behind the rosary or rose garden and is also served by a small manually operated ferry from the Haringkade.
Playing on the beach
Both in summer and winter, we often go to the beach in Scheveningen or Wassenaar. In summer many beach clubs (particularly in Wassenaar) have a playground so you can enjoy your lunch or dinner while the children are having a great time.
My tip:
Go for a bracing walk on the beach in Scheveningen in winter before enjoying a great piece of fish at Simonis, off the harbour.
Wietske is our Project Manager/Consultant and is intimately familiar with the business, the site and international tourism.
What's nearby
Show on map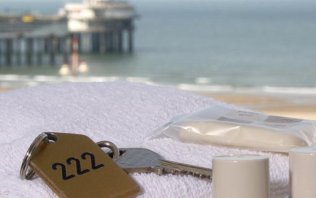 Right off the beach or on the boulevard. See our Smart Deals and book your hotel in Scheveningen here.
Book now
My tips for your holiday in Holland: