The Dutch Royal Family
Holland is a fairly young monarchy. The Kingdom of the Netherlands was established in 1815, and King William I was its first ruler. The first king of Holland was from the House of Orange-Nassau. The origin of Holland's motto, 'Je maintiendrai ("I will maintain")', the colors of the flag and the national color orange may all be found in the House of Orange-Nassau. Princess Beatrix was the reigning monarch for over 30 years. In 2013 her eldest son, Willem-Alexander, succeeded to the throne.. The monarch has limited power; the King has immunity, but the real power lies with the ministers. The monarch is neutral and does not make pronouncements about political topics.
Watch the royal wedding balcony scene
Royal wedding Willem-Alexander & Maxima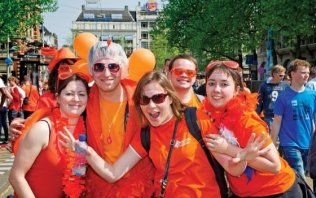 On April 27, the whole of Holland colors orange when the Dutch celebrate King's Day. During this national holiday events and celebrations are held throughout the country.
Read more
Visit the Dutch Royal Castles
A majestic palace with fantastic gardens.

Read more

A royal palace in the heart of Amsterdam.

Read more

The working palace of the King Willem-Alexander.

Read more
Blogs:
A walk through the royal city of The Hague, Part 1

Binnenhof (Inner Court), Ridderzaal (Knights' Hall) and the Historical Museum of The Hague provide a good insight into the royal history of The Hague.

A walk through the royal city of The Hague, Part 2

Explore the Lange Voorhout, the most beautiful place in Holland, and the Hofkwartier with its royal palace.