Het Loo Palace
14,414 Views
Het Loo Palace
'Paleis Het Loo' is a 300 year old palace near Apeldoorn. This former residence of the Royal Family has been open to the public since 1984. The decorations on the inside of the palace alone are worth a visit and the gardens are an absolute highlight.
Read more
Stadtholder William III had Het Loo Palace built on the Royal Estate Het Loo as early as 1685. It served as the royal family's summer residence for a long time, but has been converted into a magnificent museum since 1984. The palace's decorations alone are worth a visit, and the gardens are absolutely stunning.
Stroll through the stunning palace gardens and park.
View the splendid coach stables and collection of antique cars.
Royal History at the Palace
The best way to get an impression of how the Royal Family lived throughout the last few centuries, is by visiting Palace Het Loo. The palace can be divided into three sections:
The museum: has a splendid collection of historical objects, art and fashion.
The former stables and coach houses: present a great line-up of carriages and old timers.
The gardens and palace park: are still in their original 17th century style.
Visit Royal Palace Het Loo
Needless to say, the Palace Het Loo in Apeldoorn will take your breath away. You can visit the palace any day of the week, except on Mondays. A tour takes three hours and shows you every detail of Holland's most stunning palace.
Search for your holiday home
Check out our extensive offers.
2000 holiday homes throughout Holland.
On the coast, in a natural environment or near cities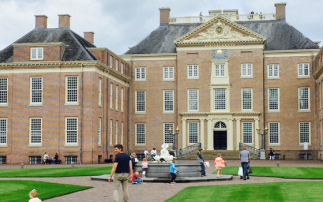 Come face to face with history and grandeur in Holland's castles and country houses.
Read more
More in this region
Van Gogh and a sculpture garden in a national park.

Read more

Explore De Hoge Veluwe on a white bike, free of charge, or during an exciting safari.

Read more

Shows and demonstrations with sea lions, walruses and of course dolphins.

Read more

The oldest National Park of the Netherlands has been attracting nature lovers since 1931. Will you also come and admire the nature and the estates?

Read more

Historic Hanseatic town on IJsselmeer lake with many monuments and excellent restaurants.

Read more

Explore the iconic hunting lodge designed by Berlage, situated in the Hoge Veluwe National Park.

Read more

De Veluwse Bron: total wellness near the Veluwe nature reserve.

Read more

Walking through Holland's biggest national park.

Read more

Discover the pure and honest products of the Veluwe on this wonderful bicycle tour.

Read more

Golf & Countryclub Edda Huzid is a course located on the edge of this forest-rich ridge of hills in the province of Gelderland. You can golf year-round on this wonderful wooded course.

Read more
Do you like this theme? You might also like: