Anne Frank House
10754 Views
The Anne Frank House is a museum with a history. It lies in the centre of Amsterdam and features the secret annex where Anne Frank wrote her famous diary during the Second World War.
Visit the Anne Frank House and see in person what it was like to live in hiding.
Learn more about the unique content and history of Anne Frank's diaries.
Discover the temporary exhibitions on fascism and persecution then and now.

The Anne Frank House is a museum with a story. It's situated in the center of Amsterdam and holds the hiding place where Anne Frank wrote her famous diary during World War II. Anne Frank was a normal girl in exceptional circumstances. For more than two years she described the events of her daily life in hiding in her diary.

The Diary of Anne Frank
Anne's original diary along with some of her other notebooks are on display as part of the Anne Frank House's permanent exhibition. The collection and temporary exhibitions focus on the wartime persecution of Jews, contemporary fascism, racism and anti-Semitism.  
Moving Experience
See for yourself how Anne, her family and other people were living while hiding from the occupying Germans. Take into account, that visiting the Anne Frank House is a moving experience, which has already touched millions of people from all over the world..
What's nearby
Show on map
Address:
Prinsengracht 267
1016GV Amsterdam
Search for your holiday home
Check out our extensive offers.
2000 holiday homes throughout Holland.
On the coast, in a natural environment or near cities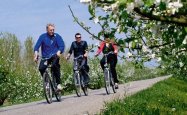 If you want to explore Holland by bicycle, check out our offer of organised bicycle holidays. The bicycle routes include baggage transport!
View the offer