Day trip Delft & The Hague by train
Day trip Delft & The Hague by train
18256 Views
Enjoy the 57min early morning train ride from Amsterdam Central Station to Delft. Hop on bus 40 and get off at the Royal Delft stop for a visit to the last remaining Delftware manufacturer (Rotterdamseweg 196, Delft). Admire the 17th century hand painted Delft earthenware or pick up a modern version by Dutch designer Marcel Wanders.
Head back to the center of Delft and stroll around the historic inner city. A visit to the Royal Tomb in the New Church (Markt 80, Delft) will show you the burial tomb of Willem of Orange (1533-1584) who is considered the founding father of the Netherlands. Enjoy a nice lunch at Kleyweg's Stads-Koffyhuis (Oude Delft 133, Delft), during the summer months grab a table on their floating terrace.
After a short 15min train ride to The Hague take some time to visit the Mauritshuis (Korte Vijverberg 8) and admire Vermeer's "Girl with the Pearl Earring" along with masterpieces by Rembrandt, Hals and Steen. The Hague is the seat of government and therefore a visit to "Het Binnenhof" with its historical government buildings should not be missed. Pass by the pretty pond "Hofvijver" on your way to Palace Noordeinde (Noordeinde 64, The Hague), which is now being used as the workplace of the king.
The Hague is also known for the Peace Palace (Carnegieplein 2, The Hague), home of the International Court of Justice. The Palace is open to the public through guided tours. Pick up some souvenirs in the trendy shopping area "Haagsche Bluf" (Haagsche Bluf, The Hague) before ending your day with a nice dinner at one of the many restaurants in the Denneweg or Frederikstraat. A 48min train ride will bring you back to Amsterdam Central Station.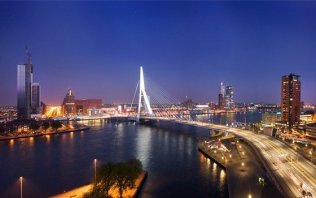 Visit the hightlights of the cities including a visit to the Euromast Tower.
Book now!
Search for your holiday home
Check out our extensive offers.
2000 holiday homes throughout Holland.
On the coast, in a natural environment or near cities