Prints in Paris 1900
310 Views
March 3, 2017 - June 11, 2017
Prints in Paris 1900
The exhibition links up prominent graphic artworks from the museum collection with exclusive works on loan from other museums.
Read more
The Van Gogh Museum owns 1,800 French lithographs from the fin de siècle (1890-1905), one of the world's major collections. From 3 March through 11 June 2017, the 'Prints in Paris 1900' exhibition takes the visitor on a journey to Paris, which experienced a graphic art revolution from 1890 onwards.
Admire the countless motives in graphic art around 1900.
Don't miss this huge exhibition in very light-sensitive prints!
Learn more about the various printing techniques.
Theme year France
In 2017 the museum's exhibitions and activities all adhere to the theme of France. This spring, it shows graphic work from around 1900 in this theme, while the fall exhibition devotes attention to the exchange between Dutch artists in the French metropolis and their peers in Holland.
Fin de siècle in Paris
The fin de siècle (1890-1905) was a great period in French graphic art; particularly in cosmopolitan Paris Avant-garde art melted into day-to-day life. Artists no longer used their talents for 'high' art alone. They also enthusiastically took on art forms previously considered inferior, such as decorative objects, prints, posters and magazine illustrations. Modern cosmopolitan life in Paris was the main central theme. Artists experimented intensively with different printing techniques, decorating all of Paris with inspiring artworks.
Graphic art in Paris. From elitist to popular
Combined with paintings, historic photos, collector furniture and decorative objects, the exhibition presents over 250 top-quality graphic artworks. These include the best work created by Henri de Toulouse-Lautrec, Pierre Bonnard, Edgar Degas, and Théophile-Alexandre Steinlen, including world-famous posters like Le Chat Noir and Le Moulin Rouge.
Top pieces in the exhibition include the dark lithographs of Odilon Redon, which turn nightmarish fantasies into reality, and the idyllic woodcuts of Félix Vallotton, with musicians performing in darkened interiors.
Never before has an exhibition focused on the large-scale history of printing techniques in Paris, from elitist (private collectors) to popular (mass production techniques). Visitors are invited into fashionable art circles, in which prints were admired and kept in the intimacy of richly decorated interiors. As such, the rarely transported Bibliothèque of Francois-Rupert Carabin (1890, Musée d'Orsay) is a real spectacle: a lavishly decorated cabinet several meters high, in which the private collector kept valuable books and prints. On the other end of the spectrum, much less elitist, we find mass-produced prints. These explore brief impressions and visual spectacles of modern public life, full of light, color and entertainment. The artistic posters and magazine illustrations battle for the attention of passersby. The top piece in this segment is clearly The Street, a poster by Steinlen with its surface of 7.5 m² and a true fresco to delight the masses.
In addition to the examples of privately owned graphic art and mass-produced prints, the exhibition focuses on different printing techniques with Auguste Clot' original stone press as another highlight.
The collection
The Van Gogh Museum on Museumplein square in Amsterdam owns the world's biggest collection of works by Vincent van Gogh. The collection includes 200 paintings, some 1,000 drawings, prints and engravings, as well as 750 out of 900 letters of Vincent van Gogh still in existence.
The museum also boasts some 300 works by his contemporaries, including Toulouse-Lautrec, Paul Gauguin, and Monet. Visitors not only gain insight into the development of Van Gogh but can also find inspiration in other artists from his period and the mutual influences between artists.
Vincent van Gogh (1853-1890) is one of the most famous Dutch painters ever. Discover fascinating themed stories and admire his painted landscapes and portraits.
Editor's pick: Did you know that Van Gogh's The Potato Eaters inspired a watch by the designer Tord Boontje? Feel free to spend time in the museum shop and see what else you can discover.
Watch Now: Exhibition Prints in Paris 1900: From Elite to the Street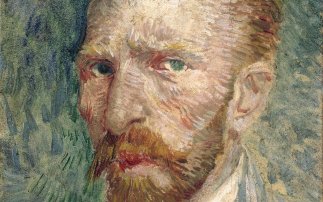 Visit the most beautiful Van Gogh locations and learn everything there is to learn about the life and works of one of the most famous artists of all time.
Read more


Do you like this theme? You might also like: