The Hermitage
Discover wonderful works from both Russia and Holland. The Hermitage in Amsterdam is a branch of the eponymous museum in Saint Petersburg.
Read more
The Hermitage Amsterdam exhibits the collection of one of the most famous and magnificent museums in the world: the State Hermitage Museum, St Petersburg. The Hermitage was founded in 1764 by Empress Catherine the Great. It boasts a collection of over 3 million pieces, many of which were collected by the Romanov dynasty.
Our venues
In Amsterdam, the treasures from that truly encyclopedic museum become accessible to every art lover, in two new exhibitions a year. The visitor is invited to undertake a historical journey, in which art objects tell great stories and show the beauty of art of all times and places. Every exhibition is surprising and full of wonders.
Our building
The Hermitage Amsterdam is located in the heart of the city in one of its largest seventeenth-century buildings, on the the river Amstel. It was the Golden Age: Amsterdam had become the richest city of the world. It was also the era of the Dutch Masters. The State Hermitage has an incredible number of great works by Rembrandt and his Dutch contemporaries, and at times some of them are on show in Amsterdam.
Our museum
Visitors of the Hermitage Amsterdam encounter a spectacular, multi-functional museum with meeting rooms, a café restaurant, shops, a study centre, an auditorium and a Hermitage for Children that provides art education and practice to 10,000 children a year.
To celebrate the Dutch Golden Age thirty master piece – brothers and sisters of Rembrandt's Night Watch – are on display in one wing of the Hermitage. In the other wing there is twice yearly changing exhibition: hermitage.nl.
The Hermitage Amsterdam is a 100% private enterprise, fully independent.
Trade Services
Do you have special trade requests or interested in special trade prices?. For all enquiries contact Joanne Droogleever Fortuyn at: sales@hermitage.nl.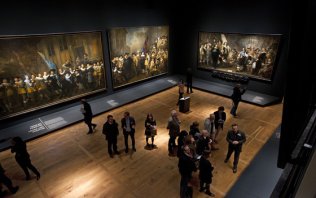 Thirty colossal, 17th century group portraits in the Hermitage Amsterdam.
Read more