House of Bols, The Cocktail & Genever Experience
House of Bols, The Cocktail & Genever Experience
276 Views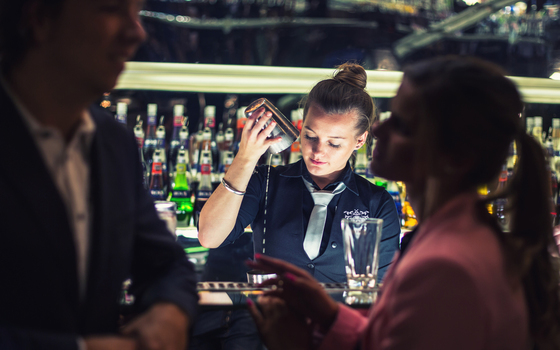 House of Bols, The Cocktail & Genever Experience
Visit Amsterdam's award winning House of Bols, The Cocktail & Genever Experience.
Read more
Visit Amsterdam's award winning House of Bols, The Cocktail & Genever Experience.
A visit to House of Bols, Cocktail & Genever Experience on the Museum Square in Amsterdam, is a unique adventure and an unforgettable interactive experience of the glamorous world of cocktails, liqueurs, bartending and Genever. Visitors find out all about Lucas Bols – the oldest distilled spirit brand in the world in Amsterdam since 1575, how Rembrandt paid for his drinks with a painting, our connection with the V.O.C. and our liqueurs and Genevers, which are mixed into a tasteful cocktails at the end of the tour.
Discover the flavour of Amsterdam
House of Bols takes its visitors on a spectacular journey through the "World of Flavour". In the Hall of Taste and Genever Room all senses will be stimulated, and visitors discover the secrets of all 38 Bols liqueurs and Bols Genevers. As winner of the Dutch Design Award for Best Exhibition & Experience, House of Bols is proving that heritage and history blend perfectly with innovation and contemporary design. The tour ends in the revolutionary Mirror Bar, where bartenders shake a Bols cocktail, based on your own flavour preferences. Those who wish to learn the art of flair bartending (think Tom Cruise in 'Cocktail') can film yourself in our Flair Booth.
Location
On the Museum Square across the Van Gogh's and the Rijksmuseum the House of Bols is perfectly located to combine with Amsterdam's major attractions.
The self-guided tour is provided in the following languages:
English, Dutch, French, German, Spanish, Italian, Russian, Japanese.
Upon reservation we offer guided tours in English.
Opening hours
Daily                                      from 12:00 - 18:00 hrs.
Friday                                     from 12:00 - 22:00 hrs.
Saturday                                 from 12:00 - 20:00 hrs.
Age
The minimum age for entrance is 18 years.
Trade contact
jennyvanderveldt@lucasbols.com
Tel: +31 (0)20 5708543.