Waterresort Bodelaeke - Giethoorn
Waterresort Bodelaeke - Giethoorn
396 Views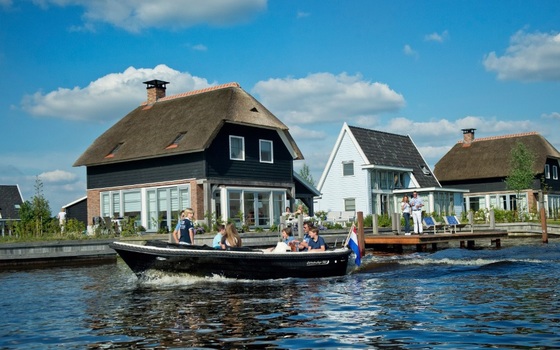 Waterresort Bodelaeke - Giethoorn
Read more
The Bodelaeke waterpark in Giethoorn, which in the Netherlands is also called the "Venice of the North", is located on the edge of the nature reserve of De Weerribben. The resort consists of various types of 5 star luxury villas and houses which are all located directly towards the water with all a private quay.
Spaciously & Comfort
Waterresort Bodelaeke is a spaciously set up holiday park, located on the edge of a beautiful nature area and on walking distance of the town centre of Giethoorn.
The houses are equipped with all modern comforts, including Wi-Fi, flat-screen TV, central and floor heating, dishwasher and microwave. All houses have a modern bathroom and in some houses pets are welcome. The Wellness Villas are equipped with a sauna facilities. 
Activities
Waterresort Bodelaeke is the ideal place to go boating, sailing, fishing, swimming, hiking and biking or just laze in the sun on the private south-facing terrace. An electric sloop or a boat can be arranged, booked in advance and docked in front of the House. In the park, angling is permitted without a fishing license.
Parking
In some cases (in consultation) busses/coaches are allowed on the park. There is enough parking space and we provide 2 car parking spaces directly at the house.
Trade contact
For special requests, rates, questions and group bookings please contact the Travel Trade department: Waterresort Bodelaeke
Tel: 0031 (0)521 361573
sales@bodelaeke.nl
www.waterresortbodelaeke.nl