Discover all icons of Holland in an interactive way
Discover all icons of Holland in an interactive way
200 Views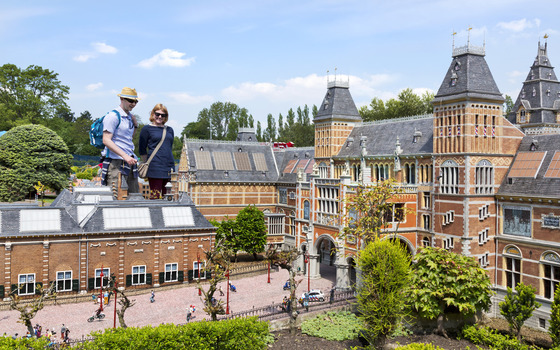 The Highlights of Holland on one location
In miniature city Madurodam in The Hague, you discover what makes Holland unique: canal houses, flower fields, cheese, windmills, Rijksmuseum and van Gogh.
Read more
In Madurodam tour groups will enjoy the benefit of a short , compact Highlight route of Holland.
Typical Dutch Must-sees.
Madurodam, located in The Hague, near Scheveningen Beach offers a wide variety of Dutch highlights in a scenic outdoor miniature park. More than 180 state-of-the-art miniatures will give our guests the opportunity to discover the culture of Holland in an interactive and fun way.
Special Trade Offers
In 2015 we offer to trade customers:
Highlight Route booklets of 25 important miniatures with beautiful pictures and stories in 8 languages.
Magnified XXL Holland Icons to welcome international visitors at the entrance of the park and to create more picture-taking opportunities in the park.
Two new miniatures about the history of Holland. One is the " Court of Dordrecht " . Cradle of the Dutch nation (year 1572)
Ample opportunities to combine a group visit with an, all-inclusive, catering package-deal.
Restaurant & Shop
In our restaurants you can enjoy the view, a cup of coffee or a meal. In our shop you will find everything to make your visit
Trade contact
There are special entry rates for trade and group bookings. For all enquiries contact Vincenzo Cosentino; vcosentino@madurodam.nl, or +31 (0)70 416 24 27.