5 Reasons to bike in Holland
5 Reasons to bike in Holland
778 Views
5 Reasons to bike in Holland
Read more
If you've asked around or searched the web about what to do when you visit Holland, you've probably stumbled upon the No. 1 recommendation to all incoming tourists repeated over and over again: Rent a bicycle. Rest assured, this is no coincidence; here are five reasons why biking reflects the heart and soul of Holland:
1. Biking is the best way to appreciate Holland's beauty
Imagine touring through Holland at your own pace, with the wind rushing through your hair. Whether you are hopping the Wadden Islands and exploring its historic villages or taking in the beautiful vistas of the world's largest windmills at Kinderdijk, there are endless ways to tour Holland's unique landscape that can only be truly appreciated via bicycle.
2. Biking embodies healthy living
You know what bikes burn? Calories. Those wheels run on pure muscle power, helping to keep the Dutch famously fit. Forgive yourself of any overindulgence in Dutch snacks you encounter during your stay by getting a taste of one of Holland's favorite pastimes.
3. Bikes have the right of way in Holland
The infrastructure of Holland centers on biking. Holland has 35,000 kilometers (over 21,000 miles) of bike paths. That's close to the circumference of the Earth (40,000 km)! Not only are there endless miles of bike paths to get anywhere and everywhere, these cycle-ways are complete with their own system of traffic signals. What's more, parking for bicycles is provided next to every shop.
4. The Dutch are progressive
The Dutch like to move forward – literally, of course (that's what the bikes are for!), but also culturally. Bikes save money since local gas is over $9 USD a gallon, and they help the environment since they neither burn fossil fuels nor emit greenhouse gases. 
5. It's cool
Let's face it - riding a bike is cool. Most everyone in Holland rides a bike, and that's because Holland is incredibly cool. Follow Pim's lead and rent a bicycle on your next visit to Holland too.
Related Articles
Read more about safe cycling, renting bikes, bike routes and biking holidays in Holland.

Read more

Holland has a cycling culture. Bicycles abound from the streets of Amsterdam to professional races.

Read more
Video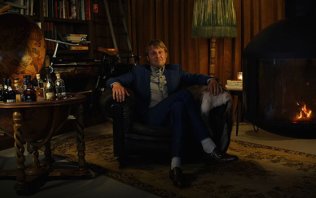 Viewed over one million times, the video that started it all. See what's really cool about Holland.
Read more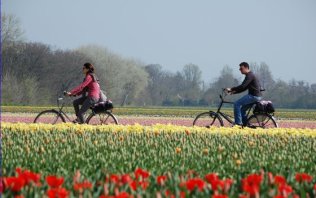 Holland offers a variety of different organized bike holidays to see the region's beauty in a fun and unique way.
Read more