St. John's Cathedral
620 Views
The Sint Janskathedraal or St. John's Cathedral is without a doubt one of the most impressive buildings in Den Bosch. This magisterial church, which was built between 1370 and 1529, boasts a tower that dates back to the 13th century. It is definitely a major attraction in the city. If you are visiting Den Bosch, you should go and see it.
Visit magnificent St. John's Cathedral in Den Bosch.
Admire the impressive interior and especially the exceptional organ.
Iconoclasm
St. John's Cathedral was built in the Brabant Gothic style and represents the wealth accumulated by Den Bosch in the late Middle Ages. In the 16th century the church and its interior in particular was heavily damaged by the iconoclast movement. The cathedral became a Protestant church in 1629 and many of its Catholic accoutrements disappeared at that time.
Unique organ
Fortunately its baptismal font from 1492, pulpit from 1560 and enormous organ from 1620 still remain. In 1816 St. Jan's was reacquired by the Catholic Church and became the bishop's church once again in 1853. If you want to see it, the church is opened from 9:00 am to 5:00 pm daily. The church may not be freely accessible due to church services or other activities, so ask about opening hours in advance.
What's nearby
Show on map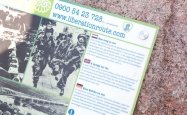 The Liberation Route lets you experience what happened in and around Arnhem, Nijmegen and the Veluwe in 1944 and 1945.
Read More
Book your holiday accommodation
Check out our extensive offers.
2000 holiday homes throughout Holland.
On the coast, in a natural environment or near cities.