Walibi Holland
9415 Views
Walibi Holland is perhaps the most exciting theme park of the Netherlands. It has many fast rides and attractions that spin you around, lift you up to great heights and play with g-forces. The park also provides plenty of entertainment for the younger visitors.
Amusement at Walibi
Walibi Holland is no place for the faint of heart. You won't get time to catch your breath between the several roller coasters and other rides with names like Aztec, el Condor and Goliath. Just hold on tight as you reach breakneck speeds, make head spinning loops and experience breathtaking drops.
Walibi Flevoland
The park is open almost every day between April and November. Check the website for the latest information and receive a discount if you book your tickets online. Have a fantastic time at Walibi Holland.
What's nearby
Show on map
Address:
Spijkweg 30
8256RJ Biddinghuizen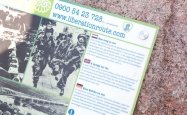 The Liberation Route lets you experience what happened in and around Arnhem, Nijmegen and the Veluwe in 1944 and 1945.
Read More
Book your holiday accommodation
Check out our extensive offers.
2000 holiday homes throughout Holland.
On the coast, in a natural environment or near cities.