Delft enjoys a worldwide reputation due to its connection with Johannes Vermeer, Delft Blue earthenware and the Royal House relive its glorious past as you wander along canals, churches, mansions and courtyards. This university town also offers canal tours, museums, markets and many pubs.
Delft Highlights
Find out how the world famous Delft Blue earthenware is produced at Royal Delft, the factory that has been producing the hand-painted, blue motives since the sixteenth century, and at Delft Pottery De Delftse Pauw, this family owned factory exclusively produces entirely hand-painted Delftware.
The Vermeer Center presents the life and works of painter Johannes Vermeer, master of light and creator of 'The Girl with the Pearl Earring'. While the Old and New Church and 'Prinsenhof' explain the strong connection between Delft and the Dutch Royal House.
Day Trip To Delft
Delft is a great place for a day trip. The city is located between Rotterdam and The Hague and can easily be reached from either one of these cities by train within fifteen minutes. It's likely you'll fall in love with the charms of this small, historic town.

What's nearby
Show on map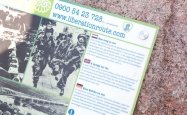 The Liberation Route lets you experience what happened in and around Arnhem, Nijmegen and the Veluwe in 1944 and 1945.
Read More
Book your holiday accommodation
Check out our extensive offers.
2000 holiday homes throughout Holland.
On the coast, in a natural environment or near cities.