Zwolle is a lively Hanseatic town with a Medieval centre. The city is pre-eminently suited for a weekend of shopping, cultural immersion and good food. During the Golden Age, Zwolle quickly grew into a powerful Hanseatic city. You can still experience the prosperity and liveliness of those times when you visit Zwolle.
The centre of Zwolle
The city has a Medieval centre, a splendid theater, plenty of shops, excellent hotels and restaurants and many lovely parks. Zwolle has everything that you would expect from a modern city without losing the intimacy of the past. The historic facades, the city wall and towers, the 600-year-old Saxon Gate (Sassenpoort) and star-shaped moat, flanked by monumental merchant's homes and trees - this is all characteristic of the city. The beautiful lanes and impressive fortifications invite you to explore the city.
The Pepperpot Tower (Peperbustoren) is a Zwolle landmark. This 75-metre tower of the Basilica of Our Lady (Onze Lieve Vrouwenbasiliek) has been a real eye-catcher since the 14th century. You can climb the tower for a wonderful view of the city.
The Pepperpot, Schnitger Organ and De Fundatie Museum
If you are making a city trip to Zwolle, there are a few highlights that shouldn't be missed. The 15th century Great or St. Michael's Church is a building with a rich cultural history. This church is known for its Gothic architecture, wealth of monuments and world-famous four-keyboard Schnitger Organ (1721).
The de Fundatie Museum houses interesting exhibits and has branches in Heino and Zwolle. Don't forget to check out the 'Waanders' bookstore located in the Church of Brothers (Broerenkerk). Wrap up your day in one of the many culinary establishments the city has to offer and samples regional dishes such as Zwolse mosterd (Zwolle mustard), peperbuskaas (Pepperpot cheese), balletjes (little balls) and Blauwvingerkoekjes (blue finger cookies).
What's nearby
Show on map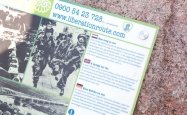 The Liberation Route lets you experience what happened in and around Arnhem, Nijmegen and the Veluwe in 1944 and 1945.
Read More
Book your holiday accommodation
Check out our extensive offers.
2000 holiday homes throughout Holland.
On the coast, in a natural environment or near cities.