Mauritshuis reopens
44 Views
June 27, 2014
On Friday 27 June, the Mauritshuis will reopen its doors after extensive renovation and conversion works. From 20:00 onwards, you can visit the special opening exhibition, explore the permanent collection or simply see how beautiful the Mauritshuis museum has become.
See the free opening exhibition on 27 June from 20:00 until midnight
Discover the 'Mauritshuis of the future'
It took some two years but the new Mauritshuis in The Hague will open its doors on Friday 27 June this year. After the official opening ceremony that will take until about 20:00, the museum will be accessible to the public free of charge until midnight. Starting 28 June the Mauritshuis museum will welcome its first (paying) visitors. Please note that the museum may be a little difficult to reach due to a big event occurring in The Hague on that day.
New entrance
The large-scale conversion works have nearly doubled the Mauritshuis' floor surface. Another notable difference is that visitors will enter the museum through a new entrance on the front court. From here, they will walk to an underground, hypermodern foyer that connects the Mauritshuis with the building across the street, Plein 26.
Seeing and experiencing art
The new section houses the café,  museum shop, auditorium, library and educational space. The 'Mauritshuis of the future' will not just be a place where one comes to see art but primarily and above all to experience art.
Opening exhibition
The special opening exhibition tells us more about the history of the Mauritshuis building and its occupants. It can be found in the new wing and celebrates the rich history of the building. You will also see that the recent renovation has brought its appearance more in line with the original design by Jacob van Campen.
Address: Plein 29, The Hague.
What's nearby
Show on map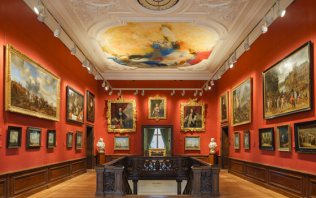 Read everything about the renovations, the collection, opening expositions, and meet the 'Girl with a Pearl Earring'. Come to The Hague and visit the Mauritshuis.
Read More