Nightlife in Leiden
2917 Views
Leiden is a student town, which means that there are plenty of places where you can have a drink and dance the night away. Check out one of these cafes, terraces, clubs and cinemas if you are planning a night on the town in Leiden.
Cafes
Café Einstein (Nieuwe Rijn 19): Named after the famous professor at Leiden University, this cafe is a sunny terrace barge during the day and a lively cafe at night. It serves a great lunch and dinner as well.
De Uyl van Hoogland (Nieuwstraat 28): The 'owl' lies shoulder to shoulder with the Hooglandse Kerk church. The bar was constructed from bits and parts from an old monastery and the entire interior is (of course) decorated with lots of owls.
Café Olivier (Hooigracht 23): This cosy Belgian beer pub is located next to the former hospital on Hooigracht. In addition to serving a mean meal, the pub organises quiz and dance nights and live performances on a regular basis.
Fandango (Noordeinde 49): Leiden's cocktail bar guarantees a wonderful night out. Cosmopolitans, Black Russians, Mojitos, Sex on the Beach and many more cocktails are served at your table by the friendly staff.
North End (Noordeinde 55): About ten draught beers and over two hundred whiskies served in a typically English atmosphere.
Barrera (Rapenburg 56): The best-known student cafe in town. In addition to students, this place is frequented for its food and drinks by Leiden natives and day tourists. In summer the cafe runs a small but pleasant terrace in the sun.
De Kroeg (Kort Rapenburg 4): This pub's name says it all: 'the pub'. It is an old-fashioned pub with music, beer and wine.
Café Roebels (Choorsteeg 24): This pleasant student cafe is nice and welcoming, with students talking at the bar until two in the morning.
Odessa (Hogewoerd 18): This place is slightly alternative but it is never too quiet. Foreign students in particular have a preference for this cafe and on Friday nights, female visitors determine the music played.
Terraces
City Hall (Stadhuisplein 3): There is a large square behind City Hall on the Breestraat, which this catering business uses to its advantage.
Terrace barges (Nieuwe Rijn): Several barges are moored in the Nieuwe Rijn, which serve  as pleasant terraces. These are the places where you can spend hours nursing your drink, enjoying the sun and watching the boats and people sail by.
Brasserie De Poort (Haven 100): A great place for lunch, cocktails and dinner. Watch the boats sail by while you enjoy a glass of good wine in the sun, with the monumental city gate in the background.
Annie's Verjaardag (Hoogstraat 1a): The terrace at Annie's Verjaardag lies on the water where the Nieuwe Rijn and Oude Rijn converge. In summer you can spend hours watching the hundreds of boats and barges come by.
Van der Werff (Steenstraat 2): When leaving the railway station, you can follow a straight line into Leiden. Look to your left to find City cafe Van der Werff. This is the place to go for lunch, cocktails or dinner. It has a lovely terrace in summer.
Clubs
NEXT Leiden (Langebrug 6): Let's go dancing! Go to this student club if you want to dance the night away.
LVC (Breestraat 66): Leiden's music stage offers a different form of entertainment every night. Come in and dance all night to the beats of bands and DJs.
Danssalon in Casa (Lammermarkt 100): Is known mainly for its periodical themed parties.
What's nearby
Show on map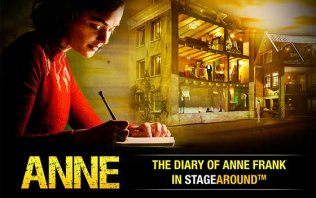 See ANNE in Theater Amsterdam! A unique play, translated into 8 languages, about the life of Anne Frank.
Read More
Our recommendations for more Holland information
Vibrant festivals, royal art, canal tours and picnics: enjoy the summer in Holland!

Read More

Undoubtedly one of the jewels of Europe, and not just because of the stunning 17th century canals. Go find out for yourself!

Read More

Hotels in special locations, luxurious or low-budget. Book your hotel room at attractive rates here.


Read More

Holland is the ultimate destination for cycling thanks to its flat landscape, mild climate, short distances and wonderful infrastructure.

Read More