Cheese market in Gouda
6680 Views
The Gouda cheese market is held during spring and summer in front of the Gouda City Hall and the Cheese weighing building. Gouda is known for its quintessential Dutch cheese. Gouda cheese represents about 60% of Dutch cheese production. The Gouda cheese market is one of the few true cheese markets left in the country (along with the Edam market). While it is dressed up for the tourist market, it still fulfills its original purpose: an outlet for local farmers to get their cheese to market.
Gouda weighing house
During the spring and summer, the Gouda cheese market still runs in the traditional manner: cheese is brought in, tested for quality, weighed, priced, and sold. The weighing house offers other fun things to do as well. Cheese is used for a measure of weight to weigh visitors, there is information (and a quiz) to test your knowledge of cheese, and of course cheese sampling. Tourists can also visit the cheese museum located on the premises. A tour of the building takes about two hours.
Arrive in Gouda
The market in Gouda is open from the beginning of April until the end of August, and takes place every Thursday morning. Be sure to visit the local crafts market at the same time when you are visiting the cheese market: traditional crafts as well as delicate cheeses. Local tours are available throughout Holland and include the cheeses of the regions, and if you are interested in local culture at all, understanding the food is a good start.
What's nearby
Show on map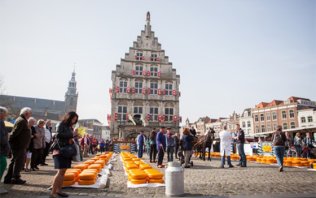 Discover the city of cheese Gouda with its beautiful historic city centre and monuments.
Read More