Holland's Finest – Top 5 meetings in Dutch castles
Holland's Finest – Top 5 meetings in Dutch castles
915 Views
January 26, 2015
Top 5 meetings in Dutch castles
The Netherlands has a lot of beautiful castles where you can host your next business meeting or event. Let's have a look!
Read more
Castle Woerden
Castle Woerden is an impressive historic location with nice spacious rooms, an impressive restaurant and a grand café, a beautiful courtyard and a large terrace. This inspiring accommodation is perfect for your customer event, meeting, conference or party, as well as a meeting place where you can have a good business lunch or dinner. Castle Woerden is located in the centre of Holland, in the Green Heart.
http://kasteelwoerden.nl/   
Castle Muiderslot
Muiderslot is a great location for your business meeting up to 100 people. Have your product presentation, meeting or training in the atmospheric Knights room or in one of the other suitable spaces of Muiderslot castle.
You can close your event with a drink, but also with a dinner in the Knights room or a buffet dinner at the Palace Square.
http://www.muiderslot.nl/

Castle Wijenburg
Whether you opt for a large-scale event for hundreds of clients or employees, or a meeting for twenty people, you always have the whole castle to yourself at castle Wijenburg. And what a castle! Imposing, fairy tale and beautifully situated among orchards, within walking distance of the picturesque main street of the village.
Wijenburg castle dates from the twelfth century, but has grown over the centuries and expanded. Who wanders through the rooms, makes a journey of the thirteenth, to the sixteenth, to the eighteenth century.
http://www.kasteelwijenburgzakelijk.nl/

Castle De Vanenburg
The castle of Vanenburg is located at a unique location in the middle of the Netherlands. Their meeting rooms are equipped with various high-tech facilities; nevertheless, the historic facade of the castle is still intact. Each room exudes again a special history. The stylish ambience contributes to a special atmosphere in which every guest feels at ease quickly.
When the event lasts for several days, you can choose to let the guests stay in one of the 52 hotel rooms. These are located in separate courtyards surrounded by nature.
http://www.vanenburg.nl/
Castle Limbricht
Limbricht Castle is a beautifult venue for meetings, seminars, conferences, corporate events and conferences. Limbricht Castle is the only well-restored Motte castle in the Netherlands. The meeting and party rooms are situated in the farm around the main castle. There are seven rooms, a restaurant and the medieval bowling makes for a great incentive. There is space for in total 1500 guests.
http://www.kasteellimbricht.eu/
Let's meet at one of the Trade Shows
Team Holland is looking forward to welcoming you at the Holland stand during IMEX Frankfurt, the worldwide exhibition for meetings, events and incentive travel.

Read more

Team Holland is looking forward to welcoming you at the Holland stand during IBTM World, the leading global event for meetings, business travel and more.

Read more

Team Holland is looking forward to welcoming you at the Holland stand during IMEX America, the biggest meetings industry trade show in the US.

Read more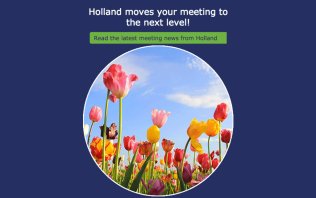 Our Holland Meetings newsletter will keep you informed about the latest news and best meeting deals and give you inspiring ideas for your next meeting in Holland!
Subscribe