Be your own guide in Holland
Be your own guide in Holland
38 Views
February 13, 2013
Do you remember the days when you came home from a tradeshow or site inspection, carrying tons of paperwork. Printed brochures and destination meeting guides were the backbone of a planners resources for future meetings.
Fortunately internet made life easier, both on meeting planners and trees. But a new challenge rose: How to find the right information (at least those printed booklets had all the information in one place)?
Mr. Holland is constantly checking the latest edition of destination guides, brochures, factsheets and other information. Some of his latest finds are listed below. He really hopes this makes planning a meeting in Holland a little easier.
A wealth of info on holland.com
The Netherlands Board of Tourism and Conventions has collected and clustered all the useful information there is on Holland. From facts & figures to useful addresses and hotel and venue listings on the major cities. 
But there is more: What about a fully searchable venue finder database, an extensive section on Green Meetings in the Netherlands (including a practical Carbon Footprint Calculator for your meetings) and a range of great tools and promotional materials (videos and images) that will be a great help to give your (prospective) delegates a fresh Dutch view on Holland.
Mr. Holland's city destination reports
Mr. Holland travels a lot to every corner of the country. On his travels he visits the best hotels and restaurants, and he often discovers hidden secrets that make a great and surprising location for your next meeting.
He has put together a special Destination Report on the most popular cities.   
Just out - New pocket guide for meetings in Holland
Discover the hidden gems of the Amsterdam - Utrecht Area through this new pocket guide for meetings in Holland. Insiders present their experiences, maps and a list with 300 venues and service providers complete this very practical pocket size guide of 100 pages. An enormous variety of unique locations, ranging from charming hotels and restaurants to original and innovative meeting venues, such as museums, farmhouses, industrial heritage factories, mansions and castles. 
The Hague goes virtual with brand new Meeting Guide
Just released last month is the new The Hague Meeting Guide. Offering a general introduction to the city, an overview of hotels and conference venues, service suppliers, useful information on capacities and of course a city map. The handbook will guide you through the many possibilities the greater The Hague area offers for organizing conferences and business events. 
Where delegates go for dining in Rotterdam
Especially for congress visitors Rotterdam Marketing offers the new restaurant guide 'Dining in Rotterdam'. This English pocket guide makes it easier for the business visitor to find his way in Rotterdam. Dining in Rotterdam shows the restaurants located near the hotels and meeting venues. After a day of conferencing, you conveniently choose your best spots, based on cuisine, price, capacity and location. The guide offers a choice of sixty restaurants in Rotterdam, including information on the most convenient ways to get to them.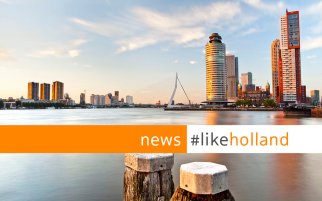 Our Holland Meetings newsletter will keep you informed about the latest news and best meeting deals and give you inspiring ideas for your next meeting in Holland!
Subscribe
Let's meet at one of the Trade Shows
Team Holland is looking forward to welcoming you at the Holland stand during IMEX Frankfurt, the worldwide exhibition for meetings, events and incentive travel.

Read more

Team Holland is looking forward to welcoming you at the Holland stand during IBTM World, the leading global event for meetings, business travel and more.

Read more

Team Holland is looking forward to welcoming you at the Holland stand during IMEX America, the biggest meetings industry trade show in the US.

Read more