Holland is small. Which is great.
If Holland were a man, he would wear size Small. From the North to the South, Holland is only 300 kilometres long, from West to East it's no more than 200 kilometres. From Amsterdam, any major city and every small village can be reached within three hours by train, bus or car. Holland is boasting an impressive web of motorways and minor roads. 
1. Amsterdam - The Hague: 50 kilometres
From the Dutch capital Amsterdam a train or bus will take you in about 45 minutes to the city of The Hague; home to the Parliament and Royal Palaces. This city graces the title of International City of Peace and Justice. This explains The Hague's large expat communities, impressive convention venues and international atmosphere.
2. Amsterdam - Maastricht: 210 kilometres
In less than three hours the intercity train will take you to the largest city in the South: Maastricht. This very old city was founded by the Romans. Its atmosphere is very much joie de vivre. And it is the city of the good life: fine wines, pleasant chateaus and great venues.
3. Amsterdam - Groningen: 180 kilometres

Groningen is one of the major cities in the North of The Netherlands. This vivid university town lies in the heart of a rural area where you can enjoy the 'typical Dutch landscape': vast meadows, cows, old farms and traditional village life.
4. Amsterdam - Rotterdam: 80 kilometres
Rotterdam is a modern city full of exciting new architecture. The dramtic cityscape, combined with its economic hustle & bustle and good accessibility, provides a refreshing setting for conferences, exhbitions or other business meetings.  
5. Amsterdam - Noordwijk: 45 kilometres 
Situated in less than 20 minutes from the Dutch capital Amsterdam lies Noordwijk, Holland's finest beach. Noordwijk is Europe's floral seaside resort with a great variety of facilities in the region. the ideal location for congresses, meetings, events and training courses. 
6. Amsterdam - Utrecht: 45 kilometres
In the middle ages Utrecht was the largest city and bishopric of what is now The Netherlands. The city's former glory is reflected in its many monumental buildings. On the other hand Utrecht also offers modern and state-of-the-art congress and meeting centres.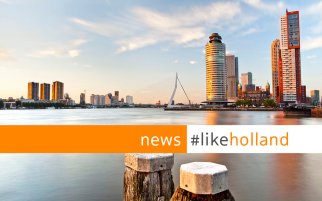 Our Holland Meetings newsletter will keep you informed about the latest news and best meeting deals and give you inspiring ideas for your next meeting in Holland!
Subscribe
Let's meet at one of the Trade Shows
Team Holland is looking forward to welcoming you at the Holland stand during IMEX Frankfurt, the worldwide exhibition for meetings, events and incentive travel.

Read more

Team Holland is looking forward to welcoming you at the Holland stand during IBTM World, the leading global event for meetings, business travel and more.

Read more

Team Holland is looking forward to welcoming you at the Holland stand during IMEX America, the biggest meetings industry trade show in the US.

Read more