Holland puts design in meetings
Holland puts design in meetings
69 Views
May 1, 2013
In an era during which meetings and conferences are no longer taken for granted, it is important to organise cost-effective events, while ensuring maximum meeting impact. Organizers and clients are looking for the optimal yield of any activity they organize.
Why are some meetings spot on, truly inspirational and have great results?
This is because of meeting design, the art of matching the meeting format to its contents and aims. Meeting design is a new profession that has developed over the past ten years, and is still evolving further.
Blind Faith - Experiencing beats listening 5-0
Just last month, during MPI Netherlands' Annual NL Conference, attendees experienced a perfect, yet very simple example that explains it all. Motivational speaker Esther Crombag has completely blind since she was eleven years old. She was able to convert her confusion and frustration into a simple, energizing mission. She decided that her life would not be the life of a blind woman, or of a disabled person! During her presentation she shared her life story, her struggles and the lessons that brought her a master's in law and made her a top athlete on the tandem bicycle. Her inspiring story has an even bigger impact because of the level playing field. The hundreds of attendees sat in a completely dark room, completely silent, and enthralled for half an hour. This  experience was as close as possible to the world Esther Crombag lives in every day of her life!
The Dutch wrote the book
Design has always played a distinctive role in our history. Nowadays you may encounter fine examples of Dutch design all over the world. We take advantage of this to also benefit the meeting industry. The Dutch literally wrote the book about it. Two seasoned Dutch meeting experts, Eric de Groot and Mike van der Vijver, combined their knowledge and insights in the first
ever book on meeting design. In 'Into the Heart of Meetings' they break a lance for the structural approach of meetings as a form of communication.The authors encourage the readers of Into the Heart of Meetings to pause for thought, and they Inspire them to change the way they look at and design meetings.
Mr. Holland has arranged a special 15% discount for you.
Please write 'Holland' in the voucher code field if you order the book.
Walk the talk - Launch in style
We can surely expect the authors of a book on this subject to design their book launch in style and in line with their ideas. Into the Heart of Meetings was launched by Eric de Groot during the recent FRESH conference in Copenhagen. He demonstrated that an event such as a book presentation can also have great impact. Instead of the usual speeches, celebrations and authors in the spotlight, he took the opportunity to put the book in the spotlight - literally. Back to the childhood days when we used to secretly read our books under the blankets at night while we were supposed to be asleep, the attendees were encouraged to participate. Scattered in groups that sat on the floor, they were given one copy of the book per group as well as a flashlight. The lights were dimmed and passages from the book were read to each other - with a flashlight the single light source. No doubt about it, none of the participants will never forget the presentation of Into the Heart of Meetings!

Time for change - time for meeting design
The current economic climate necessitates critical reviews of meetings and events. For many years, we wanted meetings to be considered a part of the marketing and communication mix, and now we must also accept that they are under close scrutiny and are being assessed by their success. Demonstrating added value fits in with this zeitgeist, and stakeholders demand 'value for money' in the meetings they conduct. Meetings that show a profit are not likely up for discussion and meeting design is an important approach to create this return. Our meetings contain a lot of untapped potential, according to the authors of the book. One of the reasons is that meetings are still looked at as a logistics process. As a result, the communicative value and power of meetings is still underused. The conscious design of meetings will help to get the best results. It is time to really start designing meetings!
Mr. Holland's tips:
Meeting Design Tool: To help you design your own business event in Holland, we developed an easy-to-use tool. This tool will give you the most suitable venues or ideas for your social programme within a couple of minutes. All you have to do is answer three simple questions, and you will receive tailor-made advice in your inbox. As an extra incentive, the first 50 users to sign up for the tool will receive a free copy of the book 'Into the Heart of Meetings'.

Meet the author: At the Holland Meeting Point during IMEX Frankfurt 2013 (E100) you can meet Mike van der Vijver, who wrote 'Into the Heart of Meetings' with Eric de Groot. This is the first ever book on meeting design. You will be able to have a free consultation with Mike during the fair.
Mr. Holland's blog posts on meeting design: Mr. Holland frequently highlights meeting design on his blog. Read inspiring examples and practical explanations on meeting formats and designing meetings. His most recent 'creative design meeting' posts were about 'design formats that foster discussions', 'less listening and lurking, more sharing and doing', and 'more virtual hospitality at hybrid events'.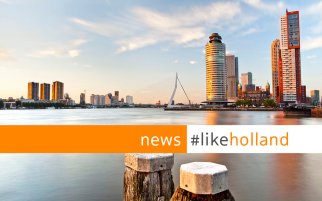 Our Holland Meetings newsletter will keep you informed about the latest news and best meeting deals and give you inspiring ideas for your next meeting in Holland!
Subscribe
Let's meet at one of the Trade Shows
Team Holland is looking forward to welcoming you at the Holland stand during IMEX Frankfurt, the worldwide exhibition for meetings, events and incentive travel.

Read more

Team Holland is looking forward to welcoming you at the Holland stand during IBTM World, the leading global event for meetings, business travel and more.

Read more

Team Holland is looking forward to welcoming you at the Holland stand during IMEX America, the biggest meetings industry trade show in the US.

Read more