Rohit is a global futurist and award winning professional speaker noted for his inspirational approach, provocative content and humorous style. He is considered a world leading authority on the future of the meetings industry and leads the groundbreaking Convention 2020 study.
Rohit is the co-author of Designing Your Future - Key Trends, Challenges and Choices (2008), the editor of Achieving Transformation and Renewal in Financial Services (1999) and has contributed chapters for a number of other books on futures and strategic change. He is a regular keynote speaker on future drivers of change, economic futures, innovation, emerging economies and winning in a downturn for business, government and association events around the world.
He leads the think tank Fast Future Research and has conducted in depth futures studies on a wide range of topics. Recent studies have looked at Global Mega Trends, Scenarios for 2015, The Shape of Jobs to Come, Future Science and Technology Timelines, the Future of China and India, the Future of Travel and Tourism, Convention 2020, Scenarios for Migration, Healthcare Innovation, Scenarios for Healthcare, Drug Futures, Demographic Trends and the Future of New Cities.  
Rohit was profiled by the Independent Newspaper as one of the top ten global future thinkers and is considered an authority on how technology is transforming business and society. He has led a number of studies on the future of travel, tourism, aviation and the meetings industry. Rohit also has a particular geographic interest in the emerging economies of Asia and Africa and a strategic focus on the challenges of embedding foresight in leading organisations. He has spoken to leadership audiences in 40 countries on five continents and typically visits 20-25 countries each year. Alongside his research, he spends around 40% of his time travelling to meet the people and organisations that are shaping the future and helping his clients develop innovative responses to future opportunities and challenges.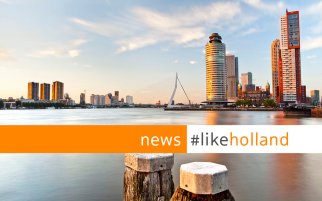 Our Holland Meetings newsletter will keep you informed about the latest news and best meeting deals and give you inspiring ideas for your next meeting in Holland!
Subscribe
Let's meet at one of the Trade Shows
Team Holland is looking forward to welcoming you at the Holland stand during IMEX Frankfurt, the worldwide exhibition for meetings, events and incentive travel.

Read more

Team Holland is looking forward to welcoming you at the Holland stand during IBTM World, the leading global event for meetings, business travel and more.

Read more

Team Holland is looking forward to welcoming you at the Holland stand during IMEX America, the biggest meetings industry trade show in the US.

Read more