Conference city Amsterdam
Conference city Amsterdam
50 Views
Amsterdam is...
... the capital of the Netherlands and almost a world of its own. Home to 174 different nationalities, Amsterdam is a true melting pot of cultures. The city centre with its famous canals breathes history and gives the city its character; the warehouses once used for trade have now been converted into apartments that mingle comfortably with international financial institutions nestled in 18th-century mansions. Amsterdam is located near Amsterdam Airport Schiphol, one of the biggest and most modern airports in Europe. The city has a remarkably compact centre with many interesting locations within walking distance, quite unique for a city that has almost 750,000 inhabitants. In addition to its fascinating mixture of cultures, Amsterdam also offers a nice blend of business and pleasure.
Business
With two highly ranked universities and academic medical centres, Amsterdam has grown to be a centre of knowledge for important developments in science and research, attracting students from all over the world. As a result, the city has a highly educated and multilingual workforce. Add to that the extremely advanced communications infrastructure, and you can see why high-tech innovators and new media find Amsterdam so attractive, and why it is so popular as a base for European corporate headquarters.
Most Dutch newspapers have their headquarters in Amsterdam, and in recent years companies such as MEXX and the Amsterdam Internet Exchange (AMS-IX) - one of Europe's biggest independent hubs for Internet traffic - have also chosen Amsterdam as their base of operations. Amsterdam's international character and general atmosphere have also attracted renowned advertising agencies such as 180, Wieden+Kennedy and Springer & Jacoby, all of which have offices in the city centre. On the north side of Amsterdam's IJ River, the former industrial shipping terrain NDSM - named after the Dutch Docking and Shipbuilding Company - is rapidly becoming a new hotspot for companies, many of which are media-related. The industrial character of the old factories combined with the easy access and spacious interiors make this area highly attractive for these cutting-edge businesses. MTV Northern Europe has already moved to the area, as has international production company IdtV. The NDSM area is still developing; plans include 20,000 square metres of workshops, theatre facilities and venues suitable for hosting large events. The 'traditional' economy also continues to play an important role, with companies such as Gassan Diamonds, the Amsterdam Stock Exchange (AEX) and the Dutch National Bank all contributing to the success of this city.
Pleasure
But it's not all business. The greater Amsterdam area offers a wide range of cultural festivities and prominent museums, such as the famous Rijksmuseum, the Van Gogh Museum and the Cobra Museum of Modern Art. And with its hundreds of restaurants, bars and clubs, the city more than lives up to its reputation as one of Europe's most exciting cities. Countless hotels and convention facilities accommodate business people looking to combine a productive working visit with a great time.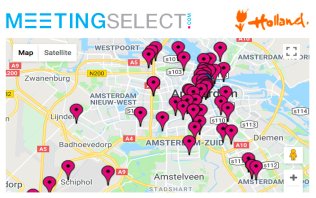 Browse our meeting venue finder powered by MeetingSelect and find your hotel and venue in Amsterdam.
Read more