Eindhoven is the design capital of the Netherlands and a creative hub in the fields of design, technology and knowledge. Choosing Eindhoven as the destination for your next meeting, convention or event will leave you buzzing with inspiration – guaranteed!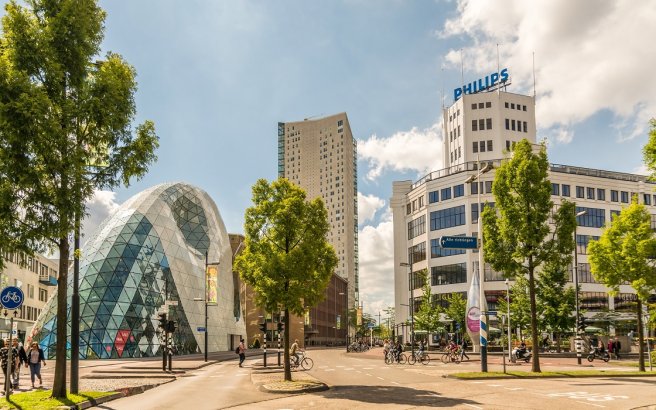 Design capital of the Netherlands
Technology, knowledge and design hub
Excellent hotels and international atmosphere
Meeting and Convention destination
Eindhoven is the 5th largest municipality of the Netherlands and yet it is an easily accessible city. Its unique meeting venues and hotels are within an easy reach. The price-quality ratio of venues and hotels is favourable compared to the more renowned Dutch cities, which makes Eindhoven an excellent and surprising alternative. Eindhoven offers 1.800 hotel rooms.
Design capital of the Netherlands
The design roots of Eindhoven go back to the world renowned Philips. The Dutch technology company was founded in Eindhoven in 1891 and established itself through innovative design. Eventually, Holland's first design academy opened in Eindhoven, which up until now produces many famous designers. The creative buzz can be felt all over Eindhoven: from the artistic installations displayed in the public space, to the design festivals such as Dutch Design Week and Eindhoven Glow held annually to the many local Dutch design stores spread all over the city. Speaking of Philip, the Philips museum provides a nice backdrop for an innovation-themed business event.
Province of Noord-Brabant
Eindhoven is located in the Dutch province of Noord-Brabant in the south of the Netherlands. The province has an enormous variety of venues and accommodations for hosting corporate meetings and events including the Evoluon, the Philips museum and the 1931 Congress Centre Brabanthallen. Noord-Brabant is renowned for its friendly people, hospitality, gastronomy, charming towns and beautiful scenery. The region is also Europe's heart of smart solutions: High tech & High Touch.
Are you ready to plan your meeting or event in Eindhoven? Or do you have specific questions about Eindhoven as meeting destination? Contact VisitBrabant Convention Bureau.