Maastricht Aachen Airport
Maastricht Aachen Airport
195 Views
Maastricht Aachen Airport (MAA) is a modern airport which is frequented increasingly more by people going on a business trip or a holiday. In addition, MAA has developed into an important cargo airport.

MAA offers holiday flights to a large number of international destinations. Some 369,000 passengers per year use this airport as their point of departure or of arrival. The airport is becoming increasingly more important in the surrounding 'Euregio'. Major German and Belgian tour operators have included Maastricht Aachen Airport in their travel programs as the airport of departure.
For more information please contact: 
Maastricht Aachen Airport
Vliegveldweg 90 
6199 AD Maastricht Airport 
The Netherlands

Tel.: +31 (0)43 358 99 99 
Internet: www.maa.nl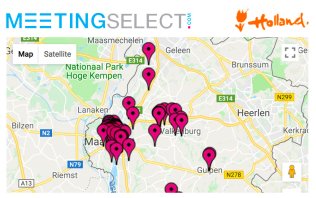 Browse our meeting venue finder powered by MeetingSelect and find your hotel and venue in Maastricht.
Read more