's-Hertogenbosch is centrally located in the Dutch province of Noord-Brabant. This makes it superbly accessible from all major cities in The Netherlands. In addition, a great variety of international airports are in close vicinity.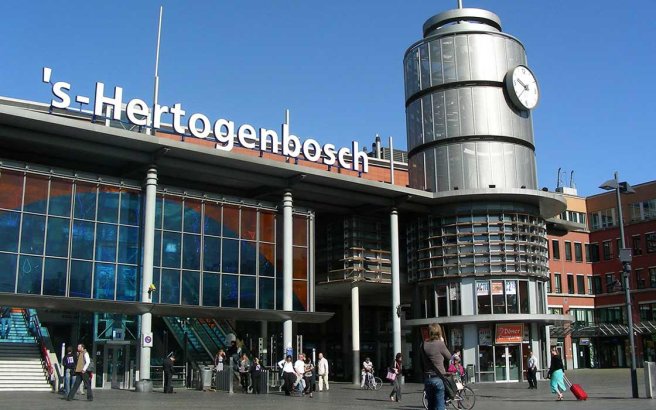 Three of the main European airports within 1.5 hours
Excellent train connections to and from all major Dutch cities
By air
Due to 's-Hertogenbosch's central location it has the advantage of being easily accessible by every airport in The Netherlands and a couple beyond the country borders. Amsterdam Schiphol Airport is an hour by train with frequent and direct daily connections. The closest local airport is Eindhoven Airport, which is about 35km/22mi from 's-Hertogenbosch. Maastricht Airport and The Hague Rotterdam Airport are also local options. In addition, Düsseldorf Airport in Germany and Zaventem Brussels Airport are a respective 110km/68mi and 125km/78mi away.
By train
's-Hertogenbosch is often referred to as the connecting city of The Netherlands due to its central location in the country. Therefore it is no surprise that it is very easy to arrive by train from all major Dutch cities. The train station is located in the city centre. From here you can likely walk to your venue or hotel. Or take a bike, certified taxi or the free inner city bus.
By road
Two of the main Dutch highways pass by 's-Hertogenbosch, making it easy to reach the city by car. Traffic can be busy on Dutch highways though, particularly around rush hour, and you should add extra travel time. There is ample parking available in the city's parking garages. Another option is parking at one of the so-called transferiums located outside the city centre. Once arrived, the best option is to leave the car behind since it is easy to get around on foot, by bike or by taking the free inner city bus.