Conference city The Hague
Conference city The Hague
23 Views
The Hague is a city of many faces. As the seat of the Dutch national government as well as the residence of the Dutch royal family, The Hague has an international appeal. It is internationally renowned as the City of Peace and Justice due to its role as the official seat of the International Criminal Court of Justice. But The Hague is so much more. It is a modern city situated in a uniquely appealing location on the shores of the North Sea. As a result, The Hague has both the allure of an international metropolis and the natural beauty and exciting features of a seaside resort.

Seaside resorts
The international appeal of The Hague is largely due to the fact that the city is home to many embassies and governing bodies. At the same time, The Hague breathes Dutch authenticity with its historical city centre and a harbour buzzing with activity from fishermen and yachting enthusiasts - The Hague boasts a seaside marina, unique in the Netherlands. The beach also plays a vital role in The Hague. Although the Netherlands might not be the first country that comes to mind when thinking of surfing, The Hague is a popular playground among Dutch surfers, windsurfers and kiteboarders alike. Even in the dead of winter, surfers can be found in the water enjoying the elements. In summertime, the beach is the place to be. The Hague offers two seaside resorts, the fashionable Scheveningen and the quieter Kijkduin. From hip beach resorts with top DJs and an entourage of young people to more traditional beach pavilions for family fun, the beach in The Hague has something to offer to anyone.

Cultural diversity
The Hague is well known for its cultural diversity. The many annual festivals, museums and theatres cater to a broad audience. The Hague can truly be considered a leading city in contemporary dance at an international level. Home to the internationally acclaimed Nederlands Dans Theater, the Holland Dance Festival, the Korzo Theatre & Production House and its CaDance festival, The Hague leads the dance. Situated between Schiphol International Airport and Rotterdam Airport and offering a vast range of hotels, convention facilities, restaurants and shops at its doorstep, The Hague combines all the advantages of an international city with the charm and character of a seaside resort. Historical venues, international charisma, beautiful surroundings and a broad range of cultural activities guarantee a memorable stay.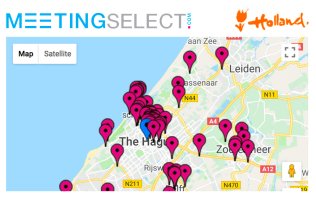 Browse our meeting venue finder powered by MeetingSelect and find your hotel and venue in The Hague.
Read more