AIR FRANCE KLM Global Meetings & Events
AIR FRANCE KLM Global Meetings & Events
Register your meeting, convention or event at AIR FRANCE KLM Global Meetings & Events and earn discounts and benefits - for event planners and attendees alike.
Free tickets for event planners
Discounts & benefits for event attendees
Discounts valid from 5 days prior to 5 days after event
Free tickets for event organizers
AIR FRANCE KLM Global Meetings & Events is the travel solution for your event. The program offers special benefits for event organizers: after registering your event in just a few clicks, you can earn free tickets with AIR FRANCE KLM's reward program and get access to promotion material for your website.
Discounts & benefits for event attendees
Registering your event with AIR FRANCE KLM Global Meetings & Events also enables your event attendees to receive benefits. These include attractive discounts of up to 15% on a wide range of public fares with AIR FRANCE, KLM and their partner airlines with an AIR FRANCE or KLM flight number. Discounts are valid for a period of 5 days before and after the event. Attendees will also earn miles with Flying Blue, AIR FRANCE KLM's frequent flyer program.
For more information or to register your event, please visit www.globalmeetings.airfranceklm.com or contact [email protected].
Additional information:
Minimum of 10 participants with a return flight.
Individual travel (max. 8 passengers in 1 booking).
Registration up to 2 months before the event date.
Discounted fares valid starting 5 days before to 5 days after the event.
Booking tool link, AIR FRANCE KLM Global Meetings & Events logo and official carriers logo are to be included on the event website and event publications.
The organizer will receive a communication kit including a link with an event ID code.
The program is for individual passengers. Groups will be handled via the regular group desk.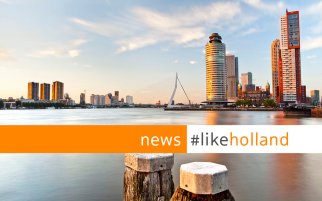 Our Holland Meetings newsletter will keep you informed about the latest news and best meeting deals and give you inspiring ideas for your next meeting in Holland!
Subscribe