Westergasfabriek Conference & Event Venue
Westergasfabriek Conference & Event Venue
974 Views
Westergasfabriek is a renovated 19th-century industrial complex set in a modern landscaped parkland – just a stone's throw away from Amsterdam city centre.
The historical buildings are tastefully renovated and meet all the comforts of modern time. With over 5000m2 venues space, 11 breakout rooms and 14 hectares of outfield, the venue offers all the indoor and outdoor space you could need for events such as exhibitions, congresses, workshops, dinner parties and fashion shows. Thanks to a fast and reliable fibre-optic network and WiFi throughout the park, the digital communication possibilities are pretty much limitless
Location
The Westergasfabriek borders the city centre of Amsterdam, located along the popular Jordaan district.  With just 15 minutes away from Amsterdam Central Station and Schiphol Airport, it is very easily accessible. You can reach the venue by just about every means of transportation: by foot, bicycle, car, public transport, coach and boat.
Full Service
Organizers preparing an event can call on the expertise of Westergasfabriek and its partners, including producers, caterers and technical support. Westergasfabriek stands for high quality service against competitive prices, offering complete solutions in the form of all-inclusive packages and total production.
If you are looking for an inspiring location, then the Westergasfabriek might just be the place for you.
For more information please contact:
Westergasfabriek Conference & Event Venue
Address: Polonceaukade 27, 1014 DA, Amsterdam
P.O Box:14732, 1001 LE Amsterdam
Phone: +31(0)20-5860710   
Email: [email protected]
Website: www.westergasfabriek.nl
Click here to view Westergasfabriek's meeting capacities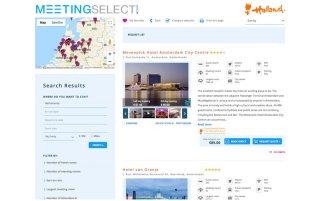 The Holland Venue Finder is the largest corporate booking tool for Dutch hotels, convention centres and venues.
Read more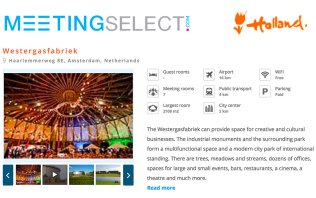 Go to our meeting venue finder powered by MeetingSelect to request a quote or directly book your event at Westergasfabriek.
Read more
Find out what's nearby
Address:
Polonceaukade 27
1014DA Amsterdam
Visit the website