Green accommodation – beyond 'please place used towels on the floor'
Green accommodation – beyond 'please place used towels on the floor'
249 Views
As Corporate Social Responsibility is becoming a more permanent aspect in the policies of organizations, it is the organizers' challenge to know their way around green tags, labels and options.
In terms of accommodations, the Dutch are very active in both creating structural sustainable policies and making the efforts and effects easily recognizable by the organizer.
Green Key
Holland currently has 408 hotels and 64 conference centres with a Green Key label. The Green Key is an eco-label for hospitality facilities, and it aims to contribute to the minimization of climate change consequences and sustainable tourism by awarding and promoting good initiatives. The Green Key aims to change the practices and behaviour of hospitality enterprises, authorities, guests, local communities, and to involve them in increasing their responsibility towards their own environment. At present, the Green Key programme runs in more than 40 countries, predominantly in Europe. Please go to the Green Key website for more info and a full overview.  
Green Globe
A second label that venues can obtain is the 'Green Globe', which has so far been awarded to thirteen Dutch hotels and venues, including the recently opened Conservatorium Hotel. In addition, some convention centres in Holland were awarded the EarthCheck certification, or are a member of the United Nations Global Compact initiative.
The fact that sustainability is not just for newly built hotels and venues was demonstrated by the 100-year-old Hotel Beaumont in Maastricht, which was awarded a Green Globe. Another national monument, the former Veemarkthallen (cattle market) in 's-Hertogenbosch, was transformed into the modern '1931 Congress Centre' and has a Golden Green Key. As a part of their efforts, they took an innovative approach to lighting, with sensors in the roof detecting the amount of natural daylight coming in and automatically switching off the venue's lights accordingly. Please go to the Green Globe website for more info and a full overview. 
Beyond the towels
But what is sustainable exactly when it comes to hotels and conference venues? Perhaps the ultimate example that started long before the world talked about CSR are the bathroom notices with 'towels on the floor/towels on the rack' to prevent pollution of the environment through detergents.
The Dutch hotel and meeting industry has made enormous progress since then and is very creative and innovative when it comes to sustainability. More and more venues have a sustainable procurement policy involving the entire production and service chain, have implemented various energy savings programmes, and are actively socially involved. Perhaps the most important progress is that many venues look beyond the property itself and actively help organizers to make the entire meeting, exhibition or event as sustainable as possible. By having detailed information and documentation available on the environmental impact of an event held at their facility, they save meeting planners a lot of work. We gladly share four sustainable best practices by Dutch venues and hotels.
Stimulate all organizers and exhibitors to participate
Holland's best-known convention centre, Amsterdam RAI, incorporated many technical novelties in its new Elicium building to lower the footprint. Amsterdam RAI is able to re-use 80% of the energy needed for the Elicium and the RAI conference centre by storing surplus heat and cold 187 metres underground in three geothermal wells. When needed, it is pumped back up into the heating and cooling system.
The total number of events in the RAI produce 45,000 tons of waste. 50% is separated onsite, the remainder is recycled by a waste management company. RAI proactively approaches each exhibition organizer and exhibitor with a special waste separation package. All food residues are converted into biogas and other organic waste into compost for the agricultural sector. The RAI is ISO 14001 certified and publishes a comprehensive sustainability report that you may read here.
Supporting local initiatives
Another pioneer in the field of sustainability is the World Forum in The Hague. Just like the RAI, this location implemented various measures to minimize the footprint of both the venue and the events that take place. World Forum was the first location in Holland to participate in the UN Global Compact Initiative, it has a dedicated CSR officer, and has bundled all its initiatives in an Ethical Programme.
World Forum believes in its 'Nettle Theory', i.e. iIt is good to stimulate others to be sustainably active, and it is also important to be open to be inspired by others.
The venue takes pride in supporting local initiatives, such as The Hague Climate Foundation, an initiative of the municipality of The Hague and the Platform Duurzaam Den Haag (Sustainable The Hague). The foundation aims to promote climate-friendly working and living in The Hague and its surroundings. The Klimaatfonds helps by providing funds for local projects aimed at reducing CO2 emissions. The World Forum's ethical programme is featured on the website, along with a practical 'green events checklist' for organizers.
Innovation think tank
Accor Hotels, strongly represented in Holland with its brands Sofitel, Novotel, Mercure and Pullman, recently launched a new CSR strategy, called PLANET 21. The international hotel chain will link its development to sustainable growth, with respect for the environment and the local communities. The new PLANET 21 strategy includes an innovative programme for informing customers and encouraging them to contribute to the hotels' actions and achievements, to enhance the guest experience. The name PLANET 21 is derived from the 'Agenda 21' programme signed in Rio back in 1992. PLANET 21 consists of 21 promises and the same number of quantified targets, clustered around the themes of Health, Nature, Carbon, Innovation, Local, Employment, and Dialogue.
As a part of the programme. Novotel Amsterdam City recently had a brainstorming meeting with sixteen influential companies and organizations on the topic of smart travel & accommodation. The aim of the meeting was to develop new, smart concepts to make the journey and the stay of guests even more environmentally friendly. Read all details on the PLANET 21 programmes and many best practices here.
Green and Fair Trade Floor
Dorint Hotel Amsterdam Airport has been championing 'green' efforts for many years. Sustainability efforts are based on the four principles of reduction, compensation, honesty and cooperation, and have resulted in initiatives such as the Green and Fair Trade Floor of 40 rooms fully equipped with Fair Trade and sustainable products, from bed linen and pillows to the minibar and its contents, water-saving taps and shower heads, LED lighting and Fair Trade flowers and fruits.
The hotel also encourages Green Mobility by offering a 50% discount off train ticket to guests wishing to travel to Amsterdam by train during their stay. Electric cars can park for free at designated places with charging posts and hybrid cars will receive a 50% discount on parking rates.
The Hotel's Green Meeting programme offers organic food and drinks, arranges waste separation and recycling, and offers many digital alternatives to paper items, including the flip-over board. All CO2 emissions are compensated and the meeting organizers will receive a certificate for their environmental administration. For more information, please visit www.greenhotelschiphol.com.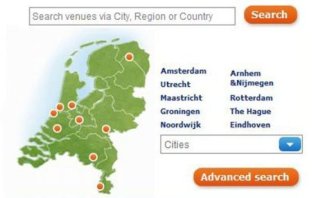 Browse through all Green Key hotels and venues in Holland directly send them your request for proposal.
Read more