Top 10 Green Food & Beverage
Top 10 Green Food & Beverage
1,162 Views
Food and beverages can make or break a meeting, as it is a memorable part of every event. The same applies to green meetings, except you also have the challenge of selecting green food & beverage suppliers. Here is a list of 10 green restaurants in Holland that know the importance of local, seasonal, organic and sustainable.  
Select restaurants serving seasonal food from local farms vendors
Carefully order food to minimize waste
Donate leftover food
1. De Kas, Amsterdam
How close can you get to the products on your plate? De Kas (The Greenhouse) has its own nursery and garden near the restaurant where Mediterranean vegetables, herbs and edible flowers are grown. In addition to a great green dining location, your delegates are welcome to tour the nursery and garden or attend a workshop.
2. Gusto, Rotterdam
At Italian restaurant Gusto in Rotterdam working with organic produce is nothing to boast about, it's a mind-set. Everything on the menu is homemade and prepared fresh on a daily basis: from bread to cakes, from ice cream to pasta. The menu varies depending what products the seasons have to offer.
3. Logisch, The Hague
Logisch ('Logical') in The Hague has one mission: to educate people about what it means to eat local and organic. All their produce is exclusively organic as are all the wines on the menu. But Logisch goes a step further: even the interior and branding are made of sustainable materials.
4. De Keuken van Gastmaal, Utrecht
De Keuken van Gastmaal knows that eating is all about taste. They also belief in sustainable entrepreneurship and respect for humans and animals. This results in tasteful dishes prepared as sustainable as possible. The menu may be small, but the seasonal food is mainly organic and from local suppliers.
5. Werk aan het Spoel / Veldkeuken, Culemborg
Werk aan het Spoel is a hidden secret that was awarded 'purest restaurant' in 2013. The local city farm delivers its seasonal vegetables by bike (very Dutch). All dairy, meat, fruit and eggs come from local suppliers as well. And the location is very unique: Werk aan het Spoel is part of the New Dutch Water Line and has grown into a cultural meeting point in the area.
6. Bolenius, Amsterdam
Bolenius, the first restaurant in Holland awarded with a Green Key certificate, offers dishes with a Dutch twist. Besides working with organic, seasonal and local produce, Bolenius has its own allotment, where neighbours are welcome to garden as well.
7. Chez Paul, Valkenburg near Maastricht
It's not the chef, but the seasons that determine what's on the menu at Chez Paul in Maastricht. The culinary calendar has 5 seasons thus the menu changes that often. Dishes are based on what's available at the local markets to enhance taste, smell, colour and spontaneity.
8. Restaurant & Brasserie Groen, Groningen
Sometimes a name does all the talking. At Restaurant & Brasserie Groen ('Green') it's all about pure, honest and healthy eating. While all produce is organic and local, the menu is influenced by the world. The seasonally changing dishes are all homemade and prepared with fresh ingredients.
9. Restaurant BY ÚS, Leeuwarden
Restaurant BY ÚS has fish from the Dutch Wadden Sea, specialty pork from the Friesland province and beef from the local Lauwersland region on its menu. It doesn't get more local like this. Local suppliers also deliver vegetables and herbs and the menu has a strong regional influence.
10. Buitengewoon in het land, country wide
Buitengewoon in het land ('extraordinary in the countryside') is a unique restaurant without walls, operating only during summer months. In close cooperation with local farmers, landowners and chefs they find a common challenge to cook for groups in unique (outdoor) locations with special, local products. A unique experience!
Now that you have covered your green accommodation and green Food & Beverage options you can go even further with your green meeting efforts. Take a look at our top 10 Green Social Programmes.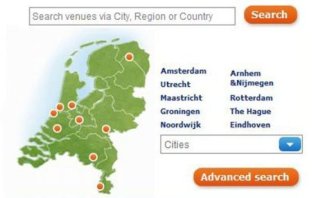 Browse through all Green Key hotels and venues in Holland directly send them your request for proposal.
Read more