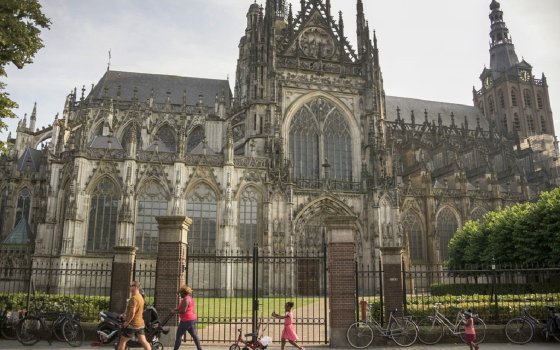 Hieronymus Bosch exhibition opening hours substantially extended due to overwhelming demand
In order to meet the enormous demand for the exhibition, 'Hieronymus Bosch - Visions of genius', the Noordbrabants Museum will be extending its opening hours. From Monday 14th March, the museum will be open daily an hour longer and visitors will be able to view the exhibition until 8 pm. From 24th March, the opening hours will be further extended and it will be possible to visit the exhibition until 11 pm on Thursdays, Fridays and Saturdays. These measures mean that more than 50,000 extra tickets will be available online from today at tickets.hnbm.nl.
More than 90,000 people have visited the exceptional exhibition dedicated to Hieronymus Bosch since it opened on 13th February. In total, more than 300,000 tickets have already been sold. This unique exhibition cannot be extended so the decision was taken to substantially extend the opening hours to allow as many people as possible the opportunity to see it. Never before have so many works returned to his city, 's‑Hertogenbosch, also known as Den Bosch, where they were painted or drawn more than 500 years ago.
Advice: book your tickets online
Due to the immense demand for tickets for visitors from the Netherlands and abroad, we would strongly advise people to book their tickets online beforehand. The only tickets that will be available from the museum ticket office on the day will be those that haven't been sold online yet. Visitors are also advised to make full use of the entire time slot to enter the exhibition. A time slot is the period in which visitors can enter the exhibition. Once inside the exhibition, visitors can stay in the museum for as long as they want.
Visit Bosch's city
The longer opening hours make it easier to combine a visit to the exhibition in the evening with a visit to Bosch's city in the daytime. 's‑Hertogenbosch and the Netherlands will be celebrating the Hieronymus Bosch year with events like exceptional music, dance, theatre and circus productions and exhibitions. Visitors can also follow Hieronymus Bosch's trail through the city by following the 'Bosch Experience' route, which includes a 'Wondrous Climb' to the top of the St. John's Cathedral, a 'Heaven & Hell Cruise' along the River Binnendieze under the medieval town centre (from 1st April) and the spectacular light show, 'Bosch by Night' on the market square where the painter had his studio (from mid-April). For the complete programme, see: www.bosch500.nl