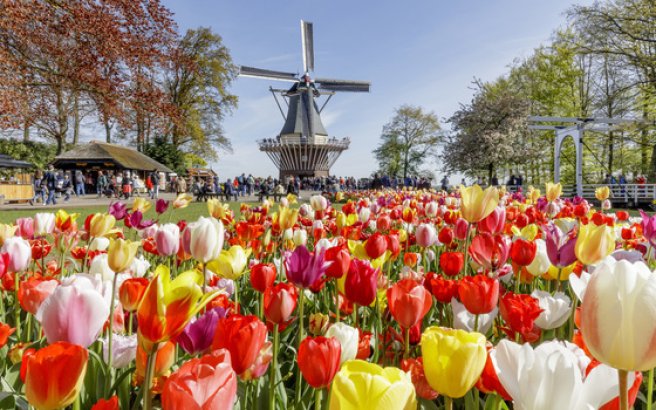 On March 23, 2017, Keukenhof will be opening its gates for the 68th time. When it closes eight weeks later, some 1 million visitors from across the world will have visited the international flower exhibition. As such, Keukenhof makes a contribution to tourism in the Netherlands. Keukenhof now has 100 flower bulb growers supplying bulbs to the park and 500 flower growers participating in the flower shows. In the autumn, some 7 million spring bulbs were planted by hand.
The new entrance hall Keukenhof
The increasing interest in Keukenhof asks for a sustainable solution for Keukenhof to welcome and receive the national and international visitors. A new entry building will be taken into operation on March 23. The transparent edifice will act as an access gate and its roof structure, with an up to 25-metre high span, plays a visually determinative role. The entrance to the spring park provides all desirable visitor facilities. Keukenhof's car park can accommodate 4,500 cars and 1,000 coaches.
Theme for 2017 Dutch Design
The Keukenhof theme for 2017 is "Dutch Design". Dutch Design is characterized by Dutch sobriety combined with innovative solutions. Famous artists and designers such as Mondriaan and Rietveld, have laid the foundations for Dutch design.
Dutch design is incorporated in the flower bulb mosaic, one of the highlights of the theme year. In addition, the flower shows in the Oranje Nassau Pavilion are entirely in the style of Dutch Design.