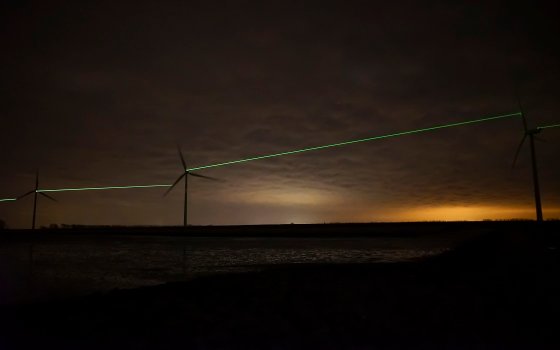 'Windlicht', the latest artwork by Roosegaarde, shows the beauty of green energy.
'Windlicht' (Windlight), the latest work of Roosegaarde, is a dance of bright lines. Special software and tracking technology detect the windmill blades rotating at 280 kilometres per hour. Green lines of light are connecting the blades. This creates a dynamic play of light and movement. Roosegaarde: "Windlicht creates the missing link between the Dutch and the beauty of our new landscape."
Daan Roosegaarde was inspired by Kinderdijk. For him these windmills from 1740 are a perfect example of Dutch innovation. Reconnecting with the landscape and creating a positive image around green energy also drives him. Roosegaarde developed the artwork together with a team of designers and engineers.
Windlicht is supported by KPN, who became climate neutral this year and has been exclusively using green energy generated in the Netherlands since 2011.
Visitors can tune into radio canal Windlicht FM 105.3 FM to hear the stories behind the artwork.
More information about the project and any future locations of Windlicht can be found at