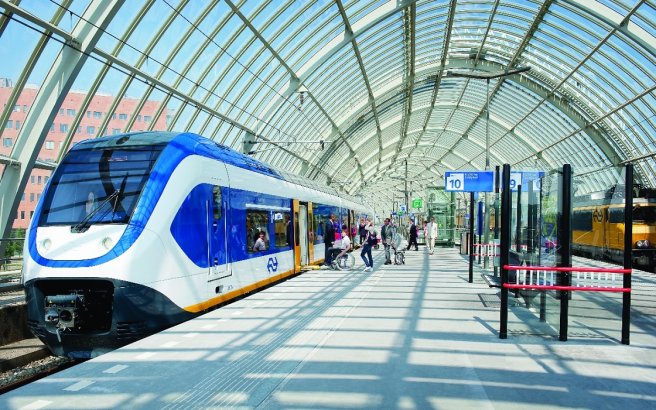 Attractive public transport for tourists
The Holland Travel Ticket is an initiative of all public transport providers and NOVB (National Public Transport Consultative Body). It is one of the numerous endeavours of the industry to make the Dutch public transport system more accessible and more attractive for tourists. These undertakings include better visibility and availability of public transport tickets at Amsterdam Airport Schiphol, a day card for the province of Zuid Holland which will be launched soon, and the development of an online public transport travel shop, dedicated to foreign visitors.
Holland Travel Ticket
NOVB introduces the Holland Travel Ticket because it wishes to encourage tourists to visit various Dutch attractions in one single day, and to acquaint them with the natural, cultural and architectural versatility of Holland.
There is a choice of two Holland Travel Tickets. The off-peak Holland Travel Ticket is valid after 09.00 a.m. on weekdays and the whole day on weekends and costs EUR 39. The Holland Travel Ticket is valid all day and costs EUR 59. Both tickets offer the tourist the convenience of one all-in public transport ticket.
The Holland Travel Ticket will be evaluated after twelve months, which is the intended duration of this pilot.
Public Transport Ticket Points
On 12 May 2016, Stadsregio Amsterdam, NS, Connexxion, Amsterdam Airport Schiphol and Amsterdam Marketing opened Public Transport Ticket Points at Schiphol Plaza for national and international visitors. The two ticket points are pop-up shops selling public transport tickets during peak hours from May through September. Two options are especially relevant for foreign visitors. These are the Amsterdam Travel Ticket and the Amsterdam & Region Travel Ticket for travel on trains, trams, buses and metro, valid for one day or multiple days. Single tickets to travel to Amsterdam by train or bus are also available.
The Amsterdam Travel Ticket is valid for public transport travel between Amsterdam Airport Schiphol and Amsterdam and within the city of Amsterdam. The Amsterdam & Region Travel Ticket allows visitors to travel both within Amsterdam and the Amsterdam region. The Travel Tickets are accepted by a range of public transport companies. Visitors who arrive by plane at Amsterdam Airport Schiphol are informed on the public transport tickets upon arrival at the pier and in the baggage reclaim area. There are signs to the points of sale of the tickets, which are also shown on the floor plans. The Travel Tickets are available from the regular points of sale of NS Tickets & Service, I amsterdam Visitor Centre, AKO news agency, and Connexxion. During peak hours in the height of the tourist season, the Travel Tickets will also be available from the two Public Transport Ticket Points at Schiphol Plaza.