2015 Beach Volleyball World Championship in The Hague
2015 Beach Volleyball World Championship in The Hague
With its 11-kilometre stretch of beaches, The Hague is Holland's Copacabana. That is why the official opening and finals of the 2015 Beach Volleyball World Championships were held in The Hague. This time, the events were not organised on the city's beaches but rather in an impressive and beautiful stadium on the Hofvijver ('court pond') with a view of the Dutch Prime Minister's offices.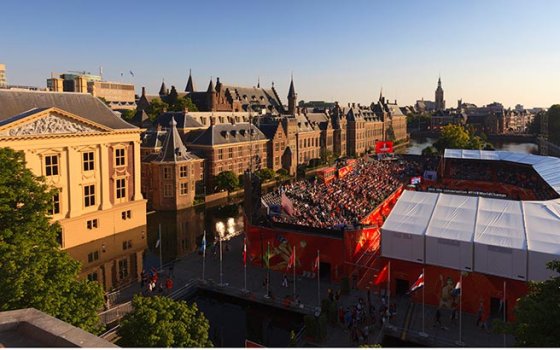 The best organised beach volleyball tournament ever
Last summer, the opening match and finals of the 2015 World Beach Volleyball Championships were held in The Hague. A great partnership between four Dutch cities ensured a varied, impressive event that was called the best organised beach volleyball tournament ever by FIVB President Ary Graça. The tournament attracted more than 110,000 fans to the cities of Amsterdam, Rotterdam, Apeldoorn and The Hague.

Focus on top sports and sports for the people
The Hague considers beach sports a focal point both in terms of top sports and grassroots sports. In addition to the top-level beach volleyball matches, The Hague organised a range of great sports and cultural activities throughout the city in the run-up to and during the World Championships. Beach Club The Hague was built very near the Hofvijver stadium. It turned Plein square into the perfect spot both to watch the matches on a big screen and to leap into action on the soft sand yourself.
Sports and cultural activities throughout the city
The Beach Stadium offered free clinics in sports like beach volleyball, beach soccer, surfing, beach fitness and beach cruising for a two-week period. Free sports opportunities were also offered on beach courts in for example the Schilderswijk quarter and Laak and Escamp districts. On Saturday 27 June, 2,355 people played beach volleyball on the Scheveningen beach simultaneously, breaking the Canadian world record set in 2014 (with 1610 people).
Spike's Beach Tour (The Hague's Beach WC 2015's mascot) offered sports and cultural activities to two thousand children; some ten thousand people in The Hague participated in these so-called side events. The city's intention to involve the greatest possible number of city dwellers in the World Championships by organising beach volleyball-related events proved successful.

The Hague contributed 850,000 euros to the Beach Volleyball World Championships and made nearly the same amount available to maximise the involvement of the city, its business community and other institutions. The Beach Volleyball World Championships were broadcast by the NOS national broadcast service. The Finals were watched by over 1.1 million Dutch viewers, and in Brazil over 20 million people watched their national team win the trophy.
Ary Graça, President of the FIVB:
'Beforehand there was some doubt about taking the beach out of the sport. Opting for a unique, historic location like the Hofvijfer made it possible to involve the city more in the event. This worked very well. People were very enthusiastic. And that made for a perfect atmosphere.' – Bas van der Goor, tournament director.

'Top sports and sports for the people are interconnected. One cannot exist without the other. I hope that events like the Beach Volleyball World Championships will inspire many people to take up sports themselves. In this way, today's children will become the The Hague top sportsmen and women of the future.'