Eindhoven, City of Sports
Eindhoven, City of Sports
With perfect sports facilities, a fantastic track record and infinite ambition, Eindhoven is a perfect location for international sports events.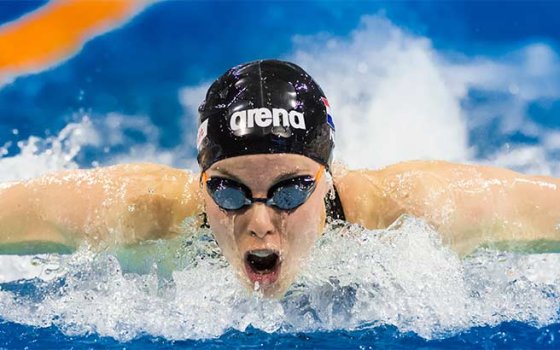 Sports development
Eindhoven has been developing at a rapid pace since the nineteen nineties. Huge investments in the high-tech, knowledge and automotive industries have put the city and region on the map. Eindhoven enjoys an excellent reputation in the fields of technology, design and knowledge –  the future starts here, in Eindhoven. And the range of sports events with international allure held in Eindhoven is keeping up with the city's growth. Events benefit from the innovative force and creativity that make the city such a popular place. The willingness to collaborate is the only condition for success in this city.
Pieter van den Hoogenband Swimming Stadium
With the completion of the Pieter van den Hoogenband Swimming Stadium in 20006, the number of big sports events in Eindhoven grew rapidly. The unique swimming stadium is still considered one of the most beautiful and attractive accommodation for swimming events in Europe, and has already hosted the European championships for water polo, competition diving and synchronised swimming, the IPC World Championships, and the Swimming World Cup. Another popular event is the annual Eindhoven Swim Cup.
And there is more...
Think Eindhoven and swimming events come to mind. But there is more! The events calendar has something to offer for all sports lovers. The Eindhoven Marathon shows that the city also loves running. After Amsterdam and Rotterdam, Eindhoven boasts the nation's biggest marathon. E-Moves demonstrates the lively youth culture in the city and is the biggest urban festival in Holland. Urban sports accommodations in Eindhoven attract many enthusiasts from abroad every week.
Track record in sports events
We have created a summary to give an impression of past events in Eindhoven. And of course we have not forgotten about 2016:
2005 World Baseball Championships

2010 European Short Course Swimming Championships

2010 2010 IPC Swimming World Championships

2012 Diving and Synchronised Swimming European Championships

2012 European Water Polo Championship 2012

2013 Swimming World Cup Eindhoven

2013 European Arena Masters Swimming Championships

2014 European Hockey League 2014

2015 Ice Hockey World Championship Division I Group B

2016 Eindhoven Diving Cup

2016 Swim Cup Eindhoven/ Pre-Olympic test event

2016 EMOVES Urban Sports and Culture Festival

2016 Dutch Open Taekwondo

2016 World Life Saving Championships