Giro d'Italia in Amsterdam
Giro d'Italia in Amsterdam
It was not the first time that a big international cycling event had its starting line in Amsterdam, but it was the first Giro d'Italia in Amsterdam. With a prologue starting on Museumplein square and ending at the Olympic Stadium, Amsterdam became known as a cycling city that loves La Dolce Vita.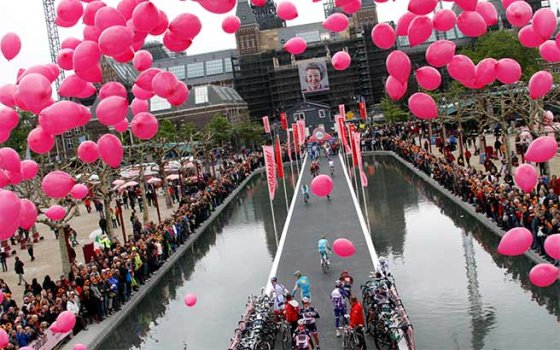 An Italian experience
In organising the Giro d'Italia prologue, Amsterdam demonstrated what a conceptual approach can mean for such an event. The unique plan ensured that visitors not only watched the world's best cyclists race through the historic city centre, but also that the Italian experience of the Giro d'Italia could be felt throughout the entire city.
Visitors could enjoy Italian concerts, an Italian culinary feast and an Italian film festival in the inner city, as well as Madonna exhibitions in Amsterdam museums, for instance. In other words, they experienced a small tour of Italy in Amsterdam's city centre. The city also organised several side events inviting people to take a spin on the bicycle themselves.
Forca Amsterdam!
All in all, this concept made the city of Amsterdam the true winner of the Giro. 209,000 additional visitors travelled to the Dutch capital and Amsterdam suddenly proved even more popular amongst Italian than before. For instance, the TCS Amsterdam Marathon received 1200 Italian registrations several months later, six times as many as the year before. The number of bicycles sold doubled and sales of race bicycles even quadrupled as a direct result of the Giro d'Italia.
Sometimes it is about the marbles
Organising the start of the Giro d'Italia proved lucrative business for Amsterdam. Additional expenditures were calculated to amount to 9.5 million euros and the written press was found to have a 24 million euro value for Amsterdam. And finally, Amsterdam graced the television screens of some 250 million people worldwide. That's something no money can buy.
Quote
Angelo Zomegnan (Race Director of the Giro d'Italia):
'Amsterdam was a new step for the Giro. Other cities could learn a lot from Amsterdam.'